Broadcast News
09/01/2015
What I'd Like To See In An S.I. Project (If It Was My Money)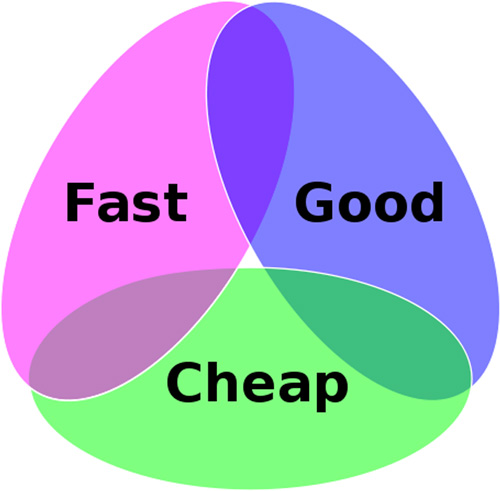 For the last 11 years I've been running Systems Integration projects at root6. Before that I spent 10 years running engineering in a couple of the bigger facilities including lots of location work for 'Big Brother' and 'Fame Academy.' Back in the eighties I spent five years at BBC Television News. By Phil Crawley, Head of SI, root6.
At root6 we handle projects of all sizes, from boutique edit suites through to large broadcast facilities. We build camera studios, audio suites, editing, machine rooms and data centres and focus on providing optimal builds. We have particular experience in bespoke fibre, data (we got into 10 Gig early) and currently we seem to be spending a lot of time doing KVM and SDi –over-IP networks as well as CWDM fibre multiplexing. I'd like to convey how well (both economically and technically) projects can go if some of the lessons I've learned over my quarter century are heeded.
Television and film are still inherently technical businesses and so, to quote Feynman: "I learned very early the difference between knowing the name of something and knowing something." We use the disparaging term 'Gingineer' in our industry for Google-informed practitioners!
Get the best out of SI Engineers by listening
When I look back over my purchase order database I can see we've delivered more than 1,000 audio jackfields since 2003, so when I estimate that it takes a wireman a certain amount of time to wire and test that patch-panel, it's based on considerable experience.
There is also a temptation to go cheap with the assumption that 'we'll fix it later'. We find this with fibre; people are happy to run in tight-buffered pre-made cables which aren't really man enough for the job and generally fail (when you least want them to, of course). Choose loose-tube spliced cable and your total cost of ownership will be lower.
The pre-mortem; what a great phrase! Think about all the terrible things that can go wrong and never be optimistic.
On one large project the air conditioning leaked several thousands of litres of water into the floor void of the production area and every single cable had to be pulled out and re-laid. Having six weeks taken off your schedule may be tolerable if there is some fat in the timeline, but when you need to pull in three shifts of wiremen and engineers to rectify it gets very expensive.
"Good, Fast, Cheap - choose only two" – this is the warning Project Managers often give and it's regarded by customers as a restraint rather than a good principle to run a project by. The tension of having to hold those three concepts and adjust the sliders realistically means you don't try and push them all to the max and then expect the best outcome. Timely projects are the best kind; something to which the BBC DMI could have paid attention.
When we study our proposals and final spends for the hundreds of projects we've completed, we see a few things that are consistent. We use around a quarter more time than adding up the length of all the jobs suggests. This all comes down to having to wait for things; builders to clear an area, rooms to be unlocked, security to provide passes. On one project we had a dozen contractors waiting every morning for half an hour to be given access. When we started showing six man hours per day on the weekly change orders they suddenly discovered that all our guys could be issued with photo ID for the site!
Electrical
It's what runs your facility and it's lethal! Make sure a well-thumbed copy of the 17th Edition is on your System Integrator's bookshelf. There are a few things that people get wrong; not entirely wrong, just not 100% right. Equipment used in film and television makes inductive loads and a technical earth is required. Electricians will always provide a safe, compliant build but unless they have been instructed, or are experienced in TV facility circuitry, they won't appreciate the need for a technical earth.
Cooling
Hot/Cold aisle machine rooms are great if you have a consistent heat-load and you don't lift the floor often. If you do lift the floor and run extra cables in and out of the room, then, very quickly, your environment starts to leak and the efficiency of the air conditioning is compromised. Given the rate of technology refresh in our industry there is no way your MCR floor is staying down for more than a few months at a time. In one facility we built in 2011 we noticed the under-floor pressure leaving the main chiller is now more than double what it was at install time. There is also an argument for not trying to push heavy cold air up the front of bays – better to work with nature and let it fall down the front from ceiling level.
Traditional cabling
Not much to do with flexible, 21st Century working you'd think? Well – people still need to look at real, honest-to-goodness synchronous HD video for grading and the like. root6 has been commissioned by Bryant Broadcast and Tektronix to test to destruction cable types as they're launched. That's how we can be so confident in our recommendations of different varieties of cable.
Battling Contractors
If you ever watch a good broadcast wireman you'll see they're masters of not doing something twice. If they have twenty patch panels to terminate into a bay, they'll be sorting and grouping those cables as they bring them into the machine room. It's a joy to watch.
If electricians/data guys/gophers run the Cat6 cable - it's seldom pretty! You don't appreciate how good the wiring professionals are until you work with someone who doesn't hack it. Last year, a project had us trying to unpick 700 Cat6 feeds that had just been dumped into a hole in the floor of the machine room. Many weren't numbered and some even had different numbers at each end.
It's great to be in the happy position of having enough wiremen to have them play to their strengths. A recently completed project had between eight and sixteen wiremen, so I could have the guys who were good at fibre just doing that, the good data guy just doing Cat6 panels and the good mechanical guys assembling bays and wallboxes. Unusually, I was even in the nice position of being able to have a guy responsible for stores. It's a rare but pleasant state of affairs.
One of my industry mentors, Chris Clegg makes the point: "A crew of qualified operators should be able to run an unfamiliar studio/OB-truck/ machine room with only 15 minutes instruction from the usual operator."
You can't create that desirable situation without intimately understanding how television workflows interact with facilities and how operators and assistants work. Consequently, the best Project Managers have years of experience in those areas.
The article is also available to read in
BFV online
.
(IT/JP)
Top Related Stories
Click here for the latest broadcast news stories.