Broadcast News
03/12/2014
PlayBox Demos Latest Gear At NATExpo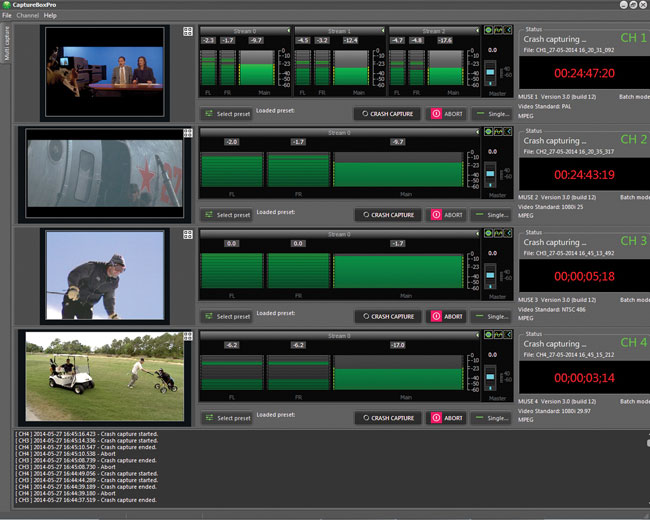 PlayBox Technology demonstrated its latest technologies at this year's NATExpo exhibition in Moscow, November 19-21.
ProductionAirBox
provides content playout for news, live broadcasts, virtual-studio screens, and video walls. Four independent players are accommodated in a single server with built in aspect ratio and resolution conversion. Content can thus be played without transcoding. A dedicated multiviewer is also incorporated.
A successor to the existing CaptureBox ingest server,
CaptureBox PRO
allows multiple channels of content to be captured from SDI digital feeds, analogue sources and MPEG transport streams. Four video sources can be monitored on a single screen and controlled via a new user interface. Audio levels can be monitored as loudness/true-peak displays and adjusted when required. Content ingested to CaptureBox PRO is available for playback within a few seconds of capture commencing.
TimeShiftBox Duo
allows broadcasters to re-transmit television channels across multiple time zones. It enables users to perform accurate time offsets for any duration ranging from 10 seconds to over one month. Logo overlay and optional interactive character generation are also available. TimeShiftBox DUO is fully transparent to ancillary data, including audio streams.
AirBox
allows automated content playout to be performed from a compact core server. It can be programmed locally or remotely to operate unattended 24/7. The enhanced AirBox incorporates a GPU-enhanced graphics mixer which allows video rotation effects and depth-order laying effects to be performed in real time. Logo animation facilities are also added with a multiplicity of applications in titling, captioning or channel branding. The audio capabilities of AirBox have also expanded.
The latest version of
ScheduleBox
allows template-based management of single, or multiple television channels. It is deployed via its web-based user interface. Operators can select daily, weekly or monthly views and perform programme block management per television channel.
SocialMediaBox
allows programme production and presentation creators to incorporate comments from multiple social networking feeds into a single ready-for-broadcast stream. This is aimed at live television shows that produce auxiliary-screen pages for viewer feedback. The custom feed can be sent to TitleBox for on-air presentation.
"Broadcasters in the CIS are very astute in their choice of media infrastructure," comments Detelin Georgiev, Area Sales Manager. "They look for operational efficiency, technical reliability, scalability and affordability. PlayBox Technology products are in successful operation by national, regional and cable television channels from east to west. We demonstrated a complete system including the recently introduced ProductionAirBox which visitors to our stand really liked. Also exhibited were our new CaptureBox PRO, TimeShiftBox DUO, the latest versions of our established AirBox and ScheduleBox and the recently introduced SocialMediaBox."
www.playbox.tv
(IT/JP)
Top Related Stories
Click here for the latest broadcast news stories.