Broadcast News
04/11/2014
NTV-PLUS Brings Calrec Consoles To Ten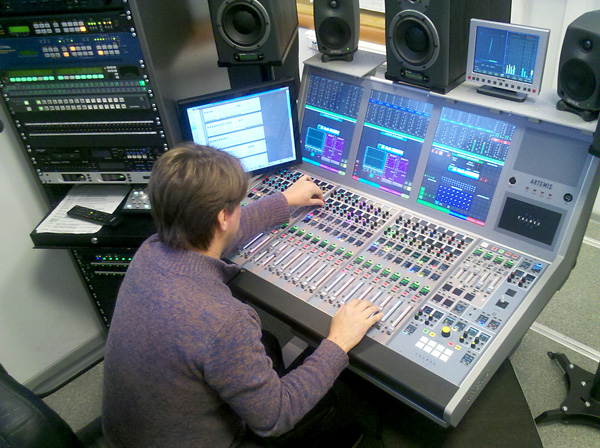 Satellite broadcasting company NTV-PLUS has installed six more Calrec consoles in its Moscow facility inside the Television Technical Centre Ostankino.
The move brings the total number of Calrec consoles to 10, all of which are linked using Calrec's Hydra2 networking system.
"The Hydra2 network is especially useful in a large multistudio installation like ours, where we handle many complex live productions, including world-renowned sports programs. Now we have even more I/O to draw from. Hydra2 gives us unlimited flexibility in tackling any kind of task or broadcast requirement," said Oleg Kolesnikov, chief technology officer at NTV-PLUS. "Besides that, all of the Calrec consoles have full redundancy, from the input ports to the faders, and Calrec's Bluefin2 DSP has proved its reliability and good sound quality time after time."
NTV-PLUS uses the Calrec consoles for mixing live sports shows, talk shows, and news production. NTV-PLUS installed two Artemis Light consoles in its Sports 1 and Sports 3 studios and four Artemis Beam consoles in its new remote transmission studio complex.
Together with the satellite provider's existing Calrec consoles, the newest six consoles are networked via a central Hydra2 router core, which NTV-PLUS installed in 2013 so that it could expand the network in the future. The Hydra2 system allows any console to access any I/O on the network.
Hydra2 is also a management tool that provides increased network-wide control of many parameters. Broadcasters can remotely configure mic gain, phantom power, patching, port protection, alias files, virtual patchbays, and access rights.
"NTV-PLUS was our first customer in Russia, and with nearly one million subscribers, it is a significant force in the Russian media landscape, especially when it comes to live sports production," said Michael Reddick, Calrec's European sales manager. "Apart from moving signals around, Hydra2 lets NTV-PLUS control and manage more of its network from any one of its consoles. That means operators have unmatched networking capability and I/O access at their fingertips, which is a powerful benefit in live, real-time operations."
www.calrec.com
(IT/JP)
Top Related Stories
Click here for the latest broadcast news stories.