Broadcast News
31/10/2014
Leader Instruments Supply Digital Cinematography Seminar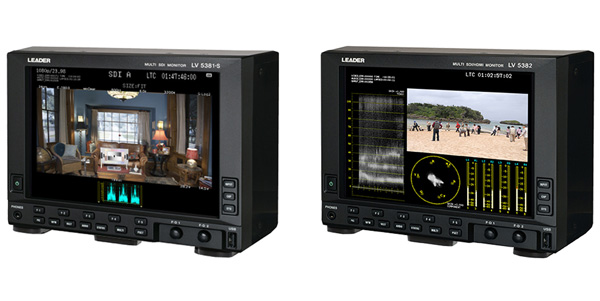 A multi-display test instrument from LEADER's LV538X has played a major role in the summer 2014 Digital Cinematography seminar at Maine Media College in Rockport, Knox County, on the US east coast.
The course covered using modern digital technology for film and video production, including the structure of analog waveforms central to the knowledge-base of successful digital film and television content producers.
"The instrument proved a great teaching tool, showing graphically what exactly is going on in a video waveform," comments Shane Rubano, Film Technical Manager at Maine Media Workshops & College. "The students found it very easy to use, guided by the self-explanatory menu tree which allowed them to achieve the information they needed without becoming confused by ergonomic issues.
"A further advantage the instrument has over other test instruments is its 8.4 inch colour LCD display screen which doubles as a picture monitor. Instructors would initially demo a complete production system in our studio facility and later take the workshop on location. It was particularly useful in allowing tutors and students to home in on issues such as lighting and the importance of ensuring careful control of chroma balance, luma intensity, contrast and gamma."
LEADER's LV538x series includes the LV5381-S and LV5382. The LV5381-S is a complete multi-screen HD/SD-SDI video and audio test system measuring 4U by half rack width. HD-SDI or SD-SDI signals from up to four cameras can be monitored on the instrument's integral 8.4 inch TFT-LCD screen.
Picture monitoring features include colour temperature specification; brightness, contrast, and aperture adjustment; and the display of gamut error locations.
Channels can be viewed individually at full-screen size or simultaneously. Each input channel can be assigned its own colour to facilitate comparison of video signal waveform and vector displays. Selectable display parameters include video signal waveform, chroma vector, five-bar video peak level or picture monitor. A level meter display shows embedded audio. Transmission error can also be displayed. Incoming Y/CB/CR signals can be viewed as as RGB or pseudo-composite waveform with line selection and adjustable waveform magnification.
The LV5381-S accepts tri-level sync signal or can synchronise to NTSC or PAL black burst. Up to 30 front panel presets may be stored internally. Captured data can be viewed onscreen and saved as bitmap files to USB memory for export to a PC.
Each LV5381-S comes complete with CINELITE and CINEZONE video signal luminance information analysis tools. CINELITE allows any three points on the picture to be selected. It then displays their f-stop numbers, percentage values, and level values. The size of the measured point can be adjusted from a single pixel to the average value for nine or 81 pixels. CINEZONE enables luminance levels in a picture to be displayed in a separate colour. This allows the overall luminance distribution of a still or moving image to be checked intuitively. Over-exposure, underexposure, and different luminance levels in dark areas can all be spotted quickly.
The LV5381-S is supplied complete with Audio Lissajous and Status Display capabilities.
The LV5382 is a variant of the LV5381-S with special capabilities for handling 3D content. It can perform HD-SDI 2-channel simultaneous display plus HDMI frame-packing in side-by-side or top-and-bottom pairs. Additional 3D-related features include a variable grid display for horizon and parallax checking plus an anaglyph display. Vertical and horizontal reversal can be performed when using a mirror rig.
www.leaderamerica.com
(IT/JP)
Top Related Stories
Click here for the latest broadcast news stories.