Broadcast News
23/10/2014
Sony Collaborates With Evertz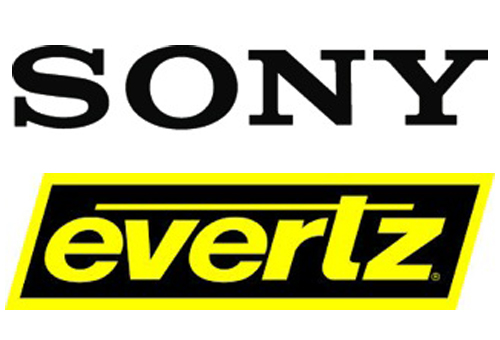 Sony and Evertz are working together to develop new IP interoperability technologies, following an announcement of their strategic alliance at IBC in September.
The Sony-Evertz collaboration will allow customers to use an IP infrastructure in their facilities, and support broadcasters through the transition from legacy SDI environments to IP-based infrastructures.
Sony's Networked Media Interface packetizes and transmits HD and 4K video, audio, and metadata in real time over standard network infrastructures. Sony is also developing low latency video codec (LLVC) technology to support the video compression required for 4K 60p transmission over 10 Gbps Ethernet.
This technology also enhances Sony's IP Live Production system, making live studio and sports broadcasts more efficient and less expensive. As of IBC 2014, 10 leading companies announced their support for Sony Networked Media Interface.
"Sony's goal is to develop real-time IP technologies to lower system costs and achieve greater efficiency of configuration and operation for broadcasters," said Olivier Bovis, Head of AV Media Marketing, Sony Professional, Sony Europe "Working with Evertz allows us to deliver scalable and flexible IP-based solutions for a wide range of production and broadcast infrastructures."
"Evertz SDVN solution leverages our MAGNUM unified orchestration and control system, together with high capacity IP switching fabrics (Evertz EXE-VSR and IPX) and IP gateways to provide an IP-based infrastructure scalable from SD/HD to Ultra HD over a 10GbE packet core, " said Eric Fankyauser, Vice President, Product Development at Evertz. "Transition from legacy SDI to IP-based infrastructures has tremendous benefit and Evertz has deployed these solutions for our customers. Developing interoperability with Sony's Networked Media Interface will give customers greater IP workflow options."
Sony and Evertz will continue to collaborate on interoperability among their IP based broadcast equipment based on the support of the Networked Media Interface.
Sony
Evertz
(MH/CD)
Top Related Stories
Click here for the latest broadcast news stories.