Broadcast News
16/10/2014
Production News: Studio Scotland Inks The Daniel Connection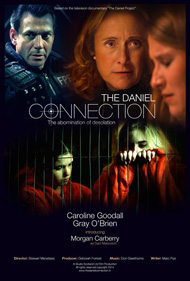 Studio Scotland Ltd has signed a distribution deal with California Pictures at Paramount Studios in Hollywood for their first full length feature film production The Daniel CONNECTION.
An apocalyptic thriller set in Scotland, the film stars Caroline Goodall (Schindler's List, Disclosure, Cliffhanger), Gray O'Brien (Coronation Street, The Queen, Titanic - Blood & Steel) and introduces American actress Morgan Carberry. It will made available at AFM in November.
This 90-minute 4K feature has been made on the back of the TV documentary, The Daniel Project (distributed by Mercury Media International and currently under new acquisition) and imagines a dystopian world apparently predicted by biblical prophecy.
The film has been financed entirely by Studio Scotland and was shot at a range of locations throughout Scotland with over a hundred actors and extras.
The Daniel CONNECTION attracted attention from distributors at the 2014 Cannes Film Festival where Hollywood-based California Pictures was one of the first to make a deal offer.
"The Daniel CONNECTION for me is one of a kind in that it will affect people differently in some way at the end of the film, which is powerful... it changes the conversation. Change in life is powerful and bad or good it always moves life forward... this film will affect everyone in different ways. Not a film anyone can forget that's for sure... those are the best kind of films," said Ashleigh Hubbard.
"Whilst budget naturally had a part to play in how expansive this apocalyptic thriller could be, the main issue was to keep accuracy in regard to the research behind the documentary. That was very challenging for the writing as the theological constraints meant that creative choices had to be kept in check. We brought in a screen writer to help with dialogue and at the end of the day decided to minimise character development to enable a strong narrative," said Deborah Forrest, producer.
"The desire to remain accurate to the original research was also reflected in the actors chosen as we did not want a big name to take away from the docudrama feel. Like the original documentary, audiences will either love it or hate it and for me, that's a good thing. I don't think there will be a middle ground. There's nothing worse than a creation that doesn't make an impression either way," added director Stu Menelaws.
The Daniel CONNECTION is set for release early 2015 in the USA, with the world premier being held in Edinburgh on 22 November.
www.thedanielconnection.tv/premiere.htm
(IT/JP)
Top Related Stories
Click here for the latest broadcast news stories.