Broadcast News
06/10/2014
RTS Intercoms Bring The House Down...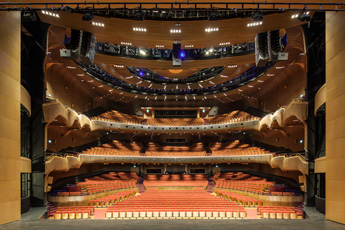 Zorlu Performing Arts Center is the new home for musicals and music events in Istanbul, with productions and live broadcasts connected by RTS intercom systems...
Zorlu Performing Arts Center is the new home of musicals and music events in Turkey's metropolis of 14 million inhabitants. Part of the 2.5 billion US dollar Zorlu Center, the Zorlu Performing Arts Center features two separate halls.
Despite bidders from several European countries, the assignment went to Istanbul-based long-term RTS partner Atempo.
Volkan Konuralp, Istanbul Regional Director at Atempo, said: "The Zorlu Center is a massive, complicated and prestigious complex of venues, with thousands attending its events. Occasionally, events are broadcasted live on national television. Especially in such cases, there is no space for mistakes when it comes to the coordination and communication of production and live broadcast."
Atempo installed two separate RTS intercom systems: one for the Musical Theater and one for the Drama Theater.
"Above everything else, the new intercom system had to guarantee that all those involved in a production would be able to exchange information with each other at any time without any problems and in high audio quality," Mr Konuralp said. "Furthermore, the system had to be reliable and simple in and of itself to use... and not only to use, but also to configure."
As a solution for both the Musical Theater and the Drama Theater, Atempo's Istanbul Project Manager Murat Koysuren and his team installed an RTS Cronus 32-port digital matrix intercom in each hall. The RTS Cronus intercom is a modular, 32-port digital matrix intercom in 2RU format (two rack units) capable of holding up to four AIO analog or RVON-C VoIP cards with eight ports each. In each hall, the respective Cronus is connected to KP-32 CLD keypanels.
Rounding off the system are WKP-4 wall mount keypanels, as well as a BTR-800 wireless beltpack and DSI 2008 Euro wired intercom beltpack systems.
"The planning of the entire integration of the RTS system yielded perfect results to deal with any eventuality. Crucial to a positive outcome was the excellent quality of communications between the individual zones of each venue," Mr Konuralp said. "RTS has been a world leader in the intercom business for a many years. There's a reason their systems relied upon by prestigious venues as the Bolshoi in Moscow."
www.rtsintercoms.com
(IT/JP)
Top Related Stories
Click here for the latest broadcast news stories.