Broadcast News
07/08/2014
Hiltron Prepares HANT C-Ku Antenna For IBC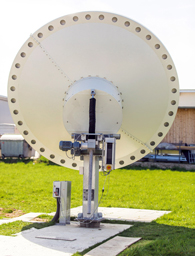 Hiltron is to introduced the new HANT C-Ku, a 3.7 metre antenna for professional satellite signal monitoring or receive-only services, at IBC2014.
An integrated feed system enables the HANT C-Ku to receive the two linear polarised Ku band signals and the circular or linear polarised signals in C band.
With a motorised polariser, the feed can be switched in C band between linear and circular polarisation. The total receivable bandwidth is up to 5.6 gigahertz. These sources can be converted to six independent L band outputs.
Hiltron's HANT C-Ku's applications include satellite performance assessment, digital newsgathering and cable-network head-ends. It can operate in winds of up to 125 kilometres per hour and survive storm conditions of up to 200 kilometres per hour.
The antenna is designed for IP-based control from a PC running a graphic user interface compatible with standard web browsers. The control GUI displays all information required to set and maintain azimuth, elevation and polarisation, including current position, target positions and a database of potentially accessible satellites. The same GUI can be used to select polarisation, the beacon-tracking receiver and the signal source matrix.
Once a satellite is selected, access parameters are calculated. Azimuth and elevation can be adjusted at up to three different speeds. Typical travel rates are 2.5 degrees per second (azimuth), 1.7 degrees per second (elevation) and 3.0 degrees per second (polarisation).
Antenna control unit and associated motor-control electronics are contained in an IP65-rated weatherproof outdoor housing with a hinged front access port secured by dual key screws. An emergency cut-off switch is accessible to the left of this housing. Above the housing is a resolver that is used to measure antenna azimuth angle. A second identical resolver allows constant monitoring of antenna elevation. Azimuth and elevation drive motors operate through a reduction gear.
Options for the Hiltron HANT C-Ku downlink antenna include a satellite tracking system, inclined orbit tracking, integration of parabolic reflectors according to customer preference, a handheld control unit, de-icer, and a choice of standard steel mounts or non-penetrating mounts.
www.hiltron.de
(IT/MH)
Top Related Stories
Click here for the latest broadcast news stories.