Broadcast News
31/07/2014
ATG Danmon Scoops Partner Excellence Award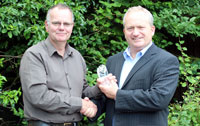 ATG Danmon has won the Partner Excellence Award from AmberFin in recognition of an outstanding year for sales and promotion of AmberFin's iCR ingest, transcode, standards conversion, integrated quality control and review solutions.
"By suppling file-based workflow solutions built on products such as AmberFin's iCR, together with our range of AQC partner solutions and file delivery solutions, ATG Danmon maintains its position at the forefront of file-based technology and operational workflows," comments Chris Elson ATG's Product Sales Manager.
"We have deep knowledge of files and file-based working, not only the technical aspects but also the greater challenge of changing operational approaches and procedures. Whilst these technical and operational challenges can be significant, meeting the commercial needs of the business is paramount.
"With so much changing in broadcast, and the speed of change increasing, even keeping up to date is a challenge in itself. By partnering with suppliers of high quality products such as Amberfin which sit at the heart of any file-based workflow, ATG Danmon continues to keep its focus on our evolving industry so we can provide our clients with the best possible solutions now and in the future."
www.atgdanmon.co.uk
Top Related Stories
Click here for the latest broadcast news stories.