Broadcast News
17/07/2014
'Ghosts Of The Odeon' Come Alive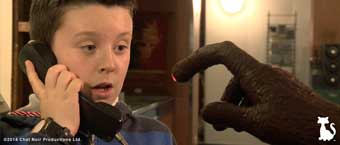 A 1936 Art Deco Odeon cinema in Chester, UK, that closed in the late '90s is to be redeveloped as part of the RE:NEW project, which seeks to transform the building into a 'cultural centre' in the heart of the city.
As a result, the Chester Film Co-op has formed to provide a creative place for film-makers and artists to meet, make films and share ideas.
As members of the Film Co-op, Chat Noir Productions have been commissioned to make three films about the Odeon; the first a short film inside the abandoned cinema.
Writer-director Daniel J. Fox envisaged an adventure film to bring Chester's Odeon back to life.
'Ghosts of the Odeon' centres on a young boy's journey around the long forgotten cinema. Exploring from the lobby to the auditorium, he encounters echoes of the past, as iconic movies come to life.
The film feature a central performance by first time actor Jack Clayton, as the boy on the adventure of a life-time.
The film was shot in two blocks, the first six hours, with a second block a week later of two hours for pickups.
Chat Noir used a Sony PMW-EX1, shooting 1080p HQ, with sticks and a wally dolly. The decision was also taken to shoot the film in 2.35 ratio, to give the full wide-screen effect.
But because the Odeon is now a construction site, the only lighting available was emergency lights that had been fitted by contractors. Only the main auditorium still has a power supply. A single 2000K Blonde was used in the auditorium and additional light was achieved elsewhere using battery powered PAG lamps.
Costumes were borrowed or created for characters including Marty McFly, Han Solo and Indiana Jones, as well as a number of special props, which were made in-house at Chat Noir.
The script also called for a number of classic 80s creatures to make an appearance. Puppets were bought or created to portray ET, the Facehugger from Alien and Gizmo from Gremlins - all puppeteered live on set.
Elements that couldn't be created practically were generated in post-production, using Maxon Cinema 4D and Blender. This included TB2 from Thunderbirds Are Go, T-Rex from Jurassic Park and HAL from 2001.
All editing and grading was done in Final Cut ProX. For the music and soundscape, Chat Noir turned to two of its in-house composers. Having been given guide-tracks from classic movie soundtracks, they set about recreating cues by composers including John Williams, Jerry Goldsmith, Alan Silvestri, Barry Gray and Vangelis. Music cues were realised inside Logic Pro using the Vienna Symphonic Sample library.
'Ghosts of the Odeon' was conceived and filmed within a month, premiering on the main screen in the Chester Odeon during a heritage open weekend.
www.chatnoirproductions.co.uk
(IT/JP)
Top Related Stories
Click here for the latest broadcast news stories.