Broadcast News
02/07/2014
Miller Introduces Air Tripod System To US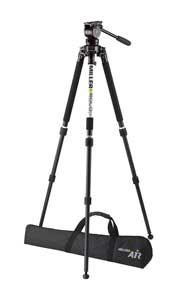 Miller Camera Support is introducing its Air Tripod System range to the US market. The range includes the Air Alloy System (3001) and Air Carbon Fibre System (3005).
"The Air Tripod Systems offer professional DSLR and HDV photo-videographers a robust, lightweight, cost-effective solution," says Gus Harilaou, Regional Manager for the Americas, Miller Camera Support, LLC. "Designed to reflect the same premium qualities of Miller's Compass Tripod System, the Air Tripod System is purpose-built for professionals who desire a compact, lighter and more agile camera support solution with the same unwavering durability that is standard of Miller tripods."
Miller's Air Tripod Systems are lightweight travel companions for professionals shooting both videos and photos in outdoor conditions. Both are compact, adaptable and durable. Each system consists of an Air Fluid Head, offering professionals Miller fluid head pan and tilt technology and a variant of the Solo 75 2-Stage Tripod. The Air Fluid Head, composed of magnesium alloy housing and precision components, comes with two positions of selectable counterbalance and a dual pan handle option. Both systems have the ability to support payloads ranging from 5.5 pounds (2.5 kilograms) to 11 pounds (five kilograms).
The Air Alloy System (3001) consists of the Air Fluid Head and the Solo 75 2-Stage Alloy Tripod, which is designed to provide the single operator with a complete run-and-gun system. Selectable leg angle locks are included and the tripod is capable of extending from 9.2 inches (234 millimeters) to 64 inches (1625 millimeters).
The Air Carbon Fibre System (3005) consists of the Air Fluid Head and the Solo 75 2-Stage Carbon Fibre Tripod. The Air Carbon Fibre System features the benefits of the Air Alloy System but at a lighter weight, totaling at 9.9 pounds (4.5 kilograms) versus the Air Alloy System's weight of 10.8 pounds (4.9 kilograms). The Air Carbon Fibre System offers both cinematographers and photographers stability and is ideal for rugged, outdoor shooting conditions.
www.millertripods.com
(IT/MH)
Top Related Stories
Click here for the latest broadcast news stories.