Broadcast News
10/06/2014
Baselight-Graded 'We Are Monster' For Edinburgh Award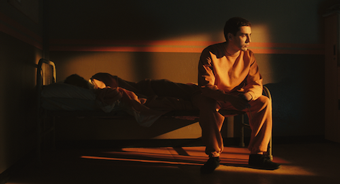 We Are Monster, a feature film written and produced by Terra Rossa Films Entertainment and graded on Baselight by Splice, has been nominated for the Michael Powell award for Best British Feature Film at the Edinburgh International Film Festival in June (18–29 June 2014).
London post house Splice was involved in the whole process from pre-shoot to delivery. It completed the full post-production of the 90-minute feature film, including the grade, online, visual effects and deliverables.
Prior to the shoot at Twickenham Studios, Splice held a consultation on digital 2K Log-C workflows using the ARRI ALEXA, and partnered up with Outpost VFX to provide VFX solutions on-set. Chris Rodgers was responsible for grading the and producing the deliverables.
Director Antony Petrou worked closely with Rodgers on the desired look for the film.
"I conformed a multi-track timeline via AAF in Baselight using the original 3K ARRI RAW files. This was completed directly in Baselight so we were always working from the raw material rather than transcodes," explained Rodgers. "After an initial pass with DoP Simon Richards, we further developed the look and added shapes to lift and knock back certain areas of the image. Almost every shot featured some kind of shape to isolate faces or eyes and Baselight's Area Tracker was invaluable for this."
The film features a number of flashbacks and Rodgers wanted to distinguish them from the rest of the film. He settled on a low contrast print emulation that avoided primary colours. On top of this Rodgers used Baselight to 'dirty-up' the image with a combination of blur, sharpening and film grain.
"Although the more complex VFX work was handled in The Foundry's NUKE and Avid DS, I was surprised at how much was possible in Baselight," added Rodgers. "In one shot, we composited a series of plates to remove a row of doors from a corridor and create a location that never actually existed. In another, we cloned and tracked areas of shots to remove part of a tattoo, not to mention the stabilising and camera moves that were added. It was great to be able to deal with these things without farming them out to VFX."
The main deliverable was 2K DCP, and Splice did the P3 to XYZ conversion straight from Baselight as well as a Rec 709 HDCAM SR 444 master.
"The generalised colour spaces in Baselight 4.4 saved valuable time because there was no need for a trim pass," Rodgers said. "And, of course, they guaranteed the most accurate results."
www.filmlight.ltd.uk/products/baselight
(IT/JP)
Top Related Stories
Click here for the latest broadcast news stories.