Broadcast News
09/06/2014
Marquis: Effective Tools For Efficient Shared Storage Administration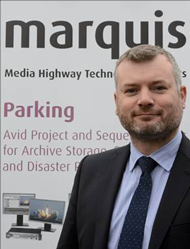 Post Production editors are busy people. In recent years, the number of staff creating content has started to outweigh those who manage it and so some administration processes have tended to 'slip' down the long list of priorities, says Ben Miles, Business Development Manager, Marquis Broadcast.
However, when it comes to managing valuable edit storage space, good housekeeping is necessary to keep project material together and move old files to ensure there is room for the next job. Ideally, the storage should only be 80% full to give headroom for moving media around.
When you also think that it costs around £1,000 per terabyte to purchase edit storage and the knock-on commercial effect of not having enough space, it is worth considering how this issue could be addressed.
Mistakes and Challenges
The challenges become exacerbated when systems for storing and moving projects are not created in an optimal way by busy editors keen to get on with the real work of post-production. Frequently, media can be put in on the wrong work space, old projects can be left on the system and unused media files not cleared out regularly.
When we looked into the challenges that one company was experiencing, we found there was three terabytes of material to archive and several projects that were over four years old, all taking up edit storage space.
This is where Project Parking came in to help. In one single application, the solution gave users the tools to improve the efficient use of their edit storage; optimising current edit storage, maximising utilisation, improving the reliability and speed of archiving.
Project Parking works by analysing all Avid projects and media so that editors can understand and prioritise which projects are using up most space and action can then be taken to transfer, archive or delete. As well as finding large projects, Project Parking can identify unused or duplicate media, which can then be deleted or archived.
Projects and media can be analysed by size, project, location, age, duplicated or orphaned files. Detected Orphan media files can be managed by moving them off-line and so freeing up the edit storage, whereas duplicate files can be deleted, leaving only one copy of the media on the shared storage.
Snapshots of versions of projects can also be taken at the touch of a button. Project Parking then allows projects to be moved between different tiers of storage or to different locations and incremental project archive versions to be created, while still maintaining a usable and easily accessible format for future retrieval and use. In other words, Project Parking quite simply helps manage shared edit storage more elegantly and efficiently. In practical terms, facilities can feel confident their shared storage is being used as effectively as possible and providing increased capability for the creative team.
Users can also rank projects in the most appropriate way. This may be in order of total size, number of files associated with a project, which workspaces the media is on, or if media is off-line.
Stalled or delayed projects can then be taken off-line to free up space and restored at a convenient later date. It is possible to archive whole projects - all the bins, sequences and media files - and update with new versions or archive only the bins that are important. Archived, projects can then be moved through the cloud and around the world. A project is transferred with all its media to any storage so that it can be restored to a new facility, workstation or laptop and edited immediately.
Project Transfer functionality can be used to ensure all the media for a project is in a particular media workspace. For example, Project Parking allows media that has ended up in several different places to be collected and put back in one location, so it can be edited by another workstation in future. Alternatively, the Transfer functionality allows media for a project to be moved to the local disk of a laptop for editing off-site, or to a new removable disk for transportation to a new facility.
Restoration, bringing a project back from deep storage or just from a weekend's editing at home is easily achieved by restoring whole projects or just the required bins of an archived project for re-editing to any other project by listing all of the archived Avid projects in each destination. Each archive provides information on when it was made and details the number of versions that are available along with user comments. The user can choose which version and where to restore the Avid Project to, selecting how the original workspaces map onto currently available ones. It is also possible to merge a new version of a project with the one currently on-line.
New Developments
Project Parking has just got better with recent developments in release v3.7. Project Parking now includes:
- new graphical storage analysis summary of the entire ISIS and any other Avid aware shared storage
- schedule storage analysis and project archiving at convenient times to suit your timescales and work patterns
- ability to archive AMA material and restore to original or new folders, including full relink of AMA media
- archive non Avid media and restore to original or new folders, e.g. renders, Adobe PSD, MS Word
- confidently and safely delete Avid projects based on archive verification while leaving media shared with other projects and 50% speed improvement with storage analysis, enabling editors to make quicker optimisation decisions.
Project Parking gives busy editors the tools to improve the efficient use of high-value edit storage and to reduce capital expenditure on additional edit storage by copying Avid projects to near-line, off-line efficient IT storage or removable storage.
The article is also available in BFV
online
.
(IT/MH)
Top Related Stories
Click here for the latest broadcast news stories.