Broadcast News
04/06/2014
AKA Design And The Art Of Aesthetics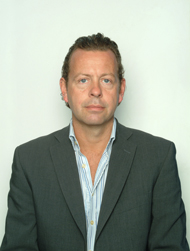 AKA Design is a renowned, UK-based designer and manufacturer of studio interiors and technical furniture. RFV took the chance to talk to Managing Director Guy Wilson.
The company has worked on installations of some of the biggest names in the industry, such as Avid, Blackmagic, Dolby and Solid State Logic. What have been the most challenging or rewarding projects in recent times?
We are lucky enough that the majority of our custom projects bring new challenges and, with them, their own particular rewards; the most recent being the relocation of an entire facility for Smoke & Mirrors.
We were commissioned to move the entire facility to their new Poland street home in a project that included desking for over 100 after-effects staff, three audio, five finishing and two grading suites. As part of the contract, AKA was also asked to design and build the reception and bar for their new front of house.
One of the most prestigious and largest contracts we have secured was to supply all the technical furniture for the BBC's new Broadcasting House in Portland Place. It was a hard-fought tender which we were proud to have won and, in doing so, we designed, manufactured and installed four main gallery desks and over 110 editing, reporters, graphics and weather desks.
We are increasingly working overseas and a great example of this was for Russia's premier film and post complex, Cinelab, for which we designed and manufactured 17 studios. This was a particularly ambitious project as we built integrated, custom-moulded leather and Wenge frames to house the Euphonic System 5, Black Magic's Davinci Resolve and Solid State Logic desks, which were then shipped directly to site and installed by their own team, keeping install costs down to a minimum.
The most recent development in the industry has been the launch of Avid's S6 Audio Controller. AKA has installed the first five in the country; each presenting different challenges because of the configurable nature of these work stations. It's always rewarding to work with the latest technologies and we enjoy being pushed both in design and manufacture.
'Customisation' is obviously a key concept in your line of work, as installations can occur in any location and for any person. What are the are the most important points to remember when approaching AKA with an idea or brief for a new project?
It always starts with a phone call and a chat about the client's space and vision for their new studio or facility. We pride ourselves on being able to supply furniture solutions for any space, location or format. We always start with the positioning of the operator and the main equipment within a space, so therefore the floor plans are the initial requirement. Budget will dictate whether we go down the 'custom' or 'product' route, but often facilities will use a combination of both. This has worked very well for many of our clients such as Red Bee, Technicolor, Warner Brothers and MTV. We are often asked to lay out entire facilities, as our knowledge of formats, workflow and revenue generation gives us an unparalleled advantage in this field. We try to incorporate the 'soul' of any business or brand and feel this should be reflected throughout the entire company interior.
Along with customisation, the company offers a range of established products for editing and grading, as well as mixing consoles and audio systems. Can you give us a brief rundown of AKA's product range?
AKA has six main product lines, which are all flat-packed and self-assembly for ease of transportation and installation. The ProEdit, ProMedia and ProLite are mainly used for editing, grading and track-lays. The Pro Wave and the Pro Command both offer a configurable system where the operator can choose from a number of various worktop racks and monitor positions. The Pro Voice is a free standing voiceover table that has been used for radio, news, broadcasting and post industries.
We offer a free layout service on our entire product ranges to help the client make sure it fits within the space and fulfils their requirements. All these ranges are very popular with post, editing and audio facilities, but also for the emerging home studio market where people are dedicating a whole room to composing, editing, mixing or grading.
Is form / function a tough balance to strike?
We do pride ourselves in the aesthetic look of every piece of furniture we design and produce, but function is paramount. The layout, sight lines and acoustics of a space are the most important functions of our technical furniture. Having said that, we try to supply individual and innovative designs for every project and understand that creative areas should have creative furniture that is not only functional, but is designed and built to last. Looking back at some of the studios we designed more than ten years ago, they not only continue to perform well but still look current in today's market.
When possible, I like to meet a client and look at their company brand and marketplace and discuss potential materials, styles and layout. We then use the latest software in CAD and 3D design to create a set of visuals so that our clients can see a representation of the proposed designs.
This is particularly useful when working overseas, when we don't always get the opportunity for a face-to-face consultation. This has worked perfectly on recent installations in Tokyo, Dubai and Nigeria.
Given the nature of the company and its use of raw materials, how serious does AKA take its environmental responsibilities? Does going green equate to a drop in quality?
AKA Design have always demonstrated commitment to the environment through a number of progressive initiatives, some of which includes switching from acid catalysts to water based lacquers, updating the lighting system to a more energy efficient solution and sourcing a service provider to recycle our MDF waste. All the MDF we use in our furniture is FSC-approved and we only use hard woods that are farmed sustainably harvested and adhere to the endangered woods CITES list. As a client-focused company, we anticipate our customers' demand for environmentally responsible products and strive to provide this.
We have the benefit of designing and manufacturing our products under one roof and this has enabled us to test new 'greener' materials to make sure that quality is never compromised. Upcycling is a real part of every day life at AKA and, with the ever changing formats and equipment, we often modernise or reconfigure a desk we have previously supplied.
AKA has undertaken projects at a vast array of universities, colleges and schools over the years. So the company can safely say it has had a hand in training the next generation...
Absolutely! We feel it's incredibly important to educate future generations to keep the UK in the forefront of the media industries. If we can help make these learning environments more ergonomic, professional and appealing to students our job is done.
Working with over eighty universities, colleges and schools nationwide we understand the rapidly growing interest in this sector and can help with all their technical furniture requirements.
Definitely the most bizarre educational project we have ever worked on was when we were approached by 'Pimp My Ride' to convert an old police riot van into a mobile recording studio, which I jumped at. We designed a fully functional studio within this incredibly tight space with a kind donation from AVID UK, who supplied all the studio equipment including monitors, microphones, controllers and software. This is being used by urban youth charity XLP across six London boroughs to benefit children who wouldn't normally get the opportunity to create and record their own music.
The article is also available in RFV
online
.
(IT/JP)
Top Related Stories
Click here for the latest broadcast news stories.