Broadcast News
15/12/2017
AKA Design Furniture Stands Test Of Time At Decka Music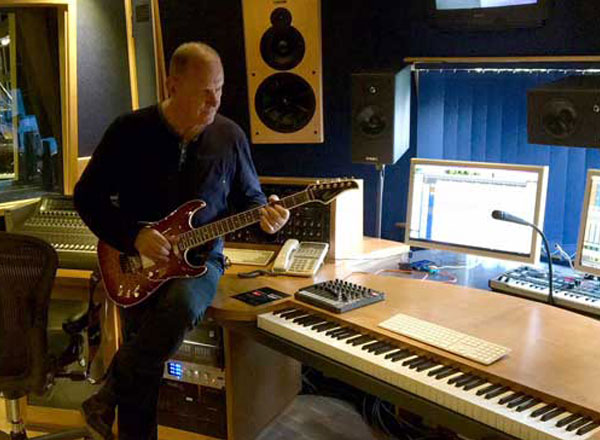 AKA Design has updated its original composing desk at Decka Music – which was installed nearly 18 years ago – to include an integrated Doepfler keyboard.
The solid oak AKA desk, belonging to composer and musician Roger Dexter, has had its centre section removed, modified and reinstalled by AKA, since Roger's technology requirements had changed. With studio furniture such an integral part of any suite, it's important to choose wisely; however, with changing technology and workflow requirements over time, it's also important to have some flexibility, and AKA's furniture can be adapted as needs arise.
"We always keep our customers' furniture configurations on CAD files, so it's easy for us to return to the exact designs and make alterations if needed," explained AKA's Managing Director, Guy Wilson. "With Roger's composing desk, even though it was a custom design that was installed nearly 18 years ago, it was simple for us to remove the middle section to integrate his new keyboard, providing him with a very ergonomic working area."
Decka Music is the home of Roger Dexter, who's probably the most-heard writer and musician in the UK today, having composed countless famous TV themes and imaging for radio stations along with a host of production music.
"I contacted Guy at AKA after all these years to discuss the possibility of adapting my desk to incorporate a new keyboard and controller," Roger commented. "I didn't want to have a new section made, since over time, the wood had warmed into a lovely golden oak finish and any new section would have been too obvious. Guy was incredibly helpful and agreed to have his workmen come and dismantle the centre part of the desk. They took it away while I was on holiday and did an amazing job of altering the woodwork to incorporate the new Doepfler keyboard. What a fabulous job! It looks like it's always been there."
AKA Design is often required to adapt custom furniture for customers. For example, the reception desk at Encore's post production facility in London has been modified three times as its requirements have changed.
"Over the years, we've re-lagged the front of the desk, refreshed the colours and even provided a new walnut top," added Guy, "and it looks great! A smart reception area always makes a good impression on customers too."
For further information on the full range of stylish AKA Design studio furniture, please go to
akadesign.com
.
Top Related Stories
Click here for the latest broadcast news stories.