Broadcast News
14/05/2014
Channel 5 Selects Digital Element For Geo Rights Management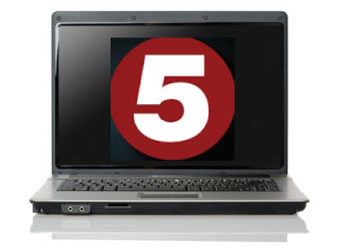 Digital Element, provider of IP geolocation intelligence technology, has announced that UK broadcaster Channel 5 has deployed its NetAcuity® system to manage the geographic rights of its internet-based TV and film content. Channel 5 also utilises Digital Element's ISP data to determine the user's ISP type.
By using Digital Element's real-time IP geolocation data, Channel 5 can permit access to content where agreements are in place and can restrict viewing where it is prohibited. The broadcaster also uses Digital Element's ISP-derived data to anonymously identify the viewer's ISP.
"Channel 5's online reach is expanding rapidly due to the adoption of new connected devices," commented Clive Malcher, Head of Product Development and Technology, Channel 5. "Now, more than ever, we need to be confident that we are complying with our content rights agreements across all the territories we serve, and it is of paramount importance to our business that the IP data we use to do this is accurate.
"Digital Element's NetAcuity solution provides us with a highly accurate and comprehensive global database, and their solution was easy to integrate with our delivery systems. We also receive great customer service, and the other intelligence data variables – including carrier and device type recognition – allow us to access additional datasets should we need to in future."
"We are delighted to be working with Channel 5 to improve digital rights compliance and enhance the viewing experience for its viewers," said Charlie Johnson, Digital Element's Digital Media Director, Europe. "Online digital rights management can be complex, but IP geolocation data simplifies the process and provides the flexibility to quickly respond to constantly changing rules for content distribution, ensuring compliance while enhancing the licensed viewer's experience."
Channel 5 joins some of Digital Element's other high-profile clients including Virgin Media, Videology, YouView, Disney, CNN, ESPN, Sony, CBS Interactive, ABC and Tesco's Blinkbox.
www.digitalelement.com
(IT/JP)
Top Related Stories
Click here for the latest broadcast news stories.