Broadcast News
29/04/2014
NAB Reflections, By WTS' Duncan Payne (Pt. 2)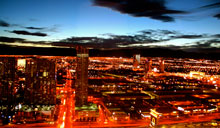 WTS' Duncan Payne continues his rundown of this year's NAB Show in Las Vegas...
The other key message from NAB was that of compatibility and collaboration. While
NewTek
themselves had one of the larger stands and won the best stand award for their
Supergirl with Super Powers
presentation, there were many manufacturers who were eager to show just how well they work with both the TriCaster and 3Play ranges.
With
TriCaster
firmly established as the leading live production tool in the market, the clamour to be labelled as an associated product was noticeable.
proMAX
were showing their Platform storage device, which can act as a seamless archive for storing productions once they are finished. Another TriCaster-compatible manufacturer keen to show off their wares were
Vitec
(the one that's pronounced Vee-Teck, as opposed to the tripod people). A quick demo of
Proxsys
, their ingest and asset management tool, was enough to show that it was pretty smooth and straightforward.
NewTek themselves had some nice software upgrades – free of charge, too – to their current TriCaster range. They also introduced a new 3Play 440 mid-level replay system, and are offering a significant price-down on their entry level 425 system.
And following on the collaboration theme, Sony presented a codec upgrade option for the PMW-F5 and F55. This new board will add both Apple ProRes and Avid DNxHD.
TVU Networks
were showcasing an enhanced product range to their video-over-mobile-phone-network solutions, with a 1U box for OB vehicle applications. Their software advances also caught the eye, in particular a GPS tracking device which makes it easier to locate clips in the video piece.
With the spotlight firmly on the 4K cameras, it would be easy to forget that were a number of new monitors also clamouring for the attention of the NAB multitudes.
Sony
had a prototype BVM-X300 on show – which should be viewed as progress since this model has been limited to a dark room appearance at the two previous big shows. I'd expect a shipping date some time around September's IBC show in Amsterdam.
Panasonic
had their 30" 4K screen on show too and, having had both screens in a side-by-side shoot-out at our Soho offices recently, the Panasonic could be a popular model.
Also on show was the new TV Logic LUM-300A 30" monitor. The first one has been sold to the BBC no less, and the image quality looked great. It can show 4K 60P on 4 BNC cables, or 4K 30P on 2 BNC cables.
Notably, 3D seemed to be the black sheep of the broadcast world, with little talk of it at NAB. However, I did find a great pair of
Cinemizer OLED glasses from Zeiss
which, while making one look like an extra from Star Trek: The Next Generation, succeeded in taking a viewfinder feed from a camera, effectively making the glasses act as the viewfinder. It was a novel idea. The glasses would receive any feed in via a small cable, and I watched Avatar in 3D for a couple of minutes playing from an iPhone at pretty good resolution. I'm not sure about the viewfinder application but the flight home would have passed far quicker had I managed to smuggle a pair out of the show.
www.wtsbroadcast.com
(IT)
Top Related Stories
Click here for the latest broadcast news stories.