Broadcast News
16/04/2014
Hamlet Launches MicroFlex Mach 2 At NAB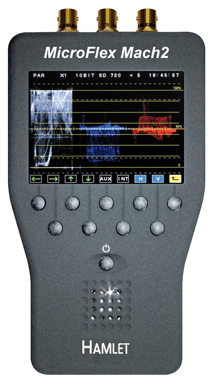 Hamlet has added to its T&M portfolio with the launch of the MicroFlex Mach 2 at this year's NAB Show in Las Vegas.
The Mach's new build enables a "reduction of cost," according to Hamlet, while offering combination option module sets and a carry case.
The MicroFlex unit switches on and fires up rapidly, featuring a set of nine buttons for instant access to major functions and a low level menu structure.
The modular nature of the instrument enables users to customise the fit to requirement, while backward compatibility with analogue systems is included for when between analogue and digital switchover.
The Mach2's in-built battery provides three to four hours of operation. It displays waveforms on a 3.5" VGA resolution TFT liquid crystal display. All standard displays are produced, including H and V Mag, Line Select, Component Parade and Bowtie.
"It's not rocket science," says Steve Nunney MD at Hamlet. "More a case of making something even more applicable to today's infrastructure for those professionals who seek the highest quality measurement, monitoring and R.O.I. in the real world of operations.
"Our solutions are always very well received and sold worldwide. NAB is an ideal launch opportunity for the new MicroFlex which we expect to see flying off the shelves at great speed."
DigiScopes DS900G, DS900 and the DigiTek DT900
were also on display at NAB 2014, making their show debut. The three measurement instruments each offer unique features to suit different environments, all offering from one to four input slots for HD, SD SDI and composite modules.
In addition users can include 3G, test signal generators, EYE display and audio modules, with loudness and Dolby if required.
Hamlet will also showcased the software package VidScope, now MH2B with its purpose designed capture card. It is the only broadcast accurate software package on the market with a feature set outstripping any others available.
www.hamlet.co.uk
(IT/JP)
Top Related Stories
Click here for the latest broadcast news stories.