Broadcast News
15/04/2014
New Grass Valley Partners With Marquis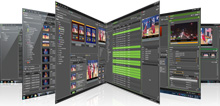 Grass Valley has partnered with UK-based Marquis Broadcast to expand the functionality of its GV STRATUS Nonlinear Media Production toolset and the K2 Summit media server.
Grass Valley will incorporate Marquis' MEWS API services to enable the exchange of files between GV STRATUS and Avid solutions, as well as other third-party products. Marquis' technology will also be used to enable the interoperability with other products requiring OP Atom file creation and additional file transfer types.
"Partnering with Grass Valley will open new doors for the entire broadcast media chain," commented Peter Davies, Director, Marquis Broadcast. "Our sophisticated MEWS API solution coupled with Grass Valley's technology lets customers transfer files back and forth between third-party solutions more quickly and simply, resulting in a huge time-savings for broadcasters and customers across the board."
GV STRATUS is a software-centric platform that lets users work in a truly nonlinear fashion. Its service-oriented architecture (SOA) allows customers to purchase, combine and configure the functional components they need to build and orchestrate workflows for production environments with GV STRATUS News, GV STRATUS Live, GV STRATUS Digital Media Platforms (DMP), and GV STRATUS Playout.
"The open nature of GV STRATUS enables us to bridge media interoperability across a wide range of video server vendors—enhancing the customer experience," said Mike Cronk, Senior Vice President of Strategic Marketing, Grass Valley. "The combination of GV STRATUS and K2 Summit with Marquis' technology is a pivotal next step in our commitment to provide tools that improve the usability of our products for a more streamlined workflow for our customers."
new.grassvalley.com
(IT/JP)
Top Related Stories
Click here for the latest broadcast news stories.