Broadcast News
02/04/2014
Bradley Engineering To Showcase Developments At NAB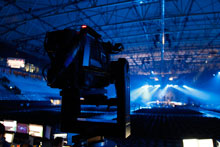 British manufacturer Bradley Engineering will be showing a set of newly-developed camera heads and accessories for unobtrusive and remote controlled filming at NAB this year, including the new 'XM' Extended Motion camera head for Virtual Reality filming and large scale conference presentations.
The equipment is built for professional broadcasters and includes remote controlled camera heads with 30x zoom, cameras with 4 MegaPixel imaging and connectivity products to operate cameras over IP networks.
Bradley's products are all designed to work together and use the latest optical technology, with 1080p High Definition video and improved precision in the control of the moving camera. Bradley provides a Remote Control Panel and a touch-screen interface to operate all of the company's cameras.
Highlights on show at NAB will be: Bradley's enhanced Camball 3, a miniature rotating camera head that now offers 30x optical zoom; three miniature, high resolution camera heads with 4 MegaPixel imaging and improved low light performance, and the stylish 'Eyeb' remote mini camera.
The Eyeb is an all in one design, with streamlined styling, for commentary cameras, POVs, unobtrusive filming and multi-camera reality shows. It features a larger sensor chip, increased to 0.4" and 4 Megapixel camera with controllable movement in pan, tilt and zoom.
Bradley offers a dynamic routing option that uses RS485 converters to connect up to 99 cameras. The company also offers a number of interface and ancillary units to provide the connectivity for these two systems.
Bradley Engineering's new "XM" Extended Motion camera head for Virtual Reality filming and large scale conference presentations
The company will also be introducing a new, precision controlled camera head for remote camera control, which is accurate enough for Virtual Reality filming where a presenter stands against a computer-generated set, or for conferencing applications in large venues.
The new camera head, named 'XM' or 'Extended Motion', is fully motion controllable, controlled not just by a joystick, but also by a computer, and by pre-programming. This gives it greater accuracy and tighter control of the movement, including control of acceleration and deceleration. There is also a feature to remember and repeat programmed moves.
Bradley Engineering has refined the control and positioning mechanisms and sensors from 8 bit to 24 bit, which gives a totally new level of sensitivity in the positioning of the camera.
The XM offers 14 - 16 bit joystick control, when it is operated with Bradley's Multi Function Controller, which gives improved control at very low speeds. There are 99 positions of Pan Tilt, Zoom and Focus with 24 bit Virtual Reality output when the camera is driven either by joystick, additional controller or computer, and there are adjustable pre-set movements of ramp and speed and motion control.
Bradley has added a new 'Move Tracing' feature that allows you to record a joystick move and play it back again, with the option of adjusting the speed.
The chassis has a rigid frame, to carry a heavy camera, which can be a full size broadcast camera or a movie camera.
Bradley Engineering is including full IP networking and CCU camera control within the XM camera head. It operates with Sony, Ikegami, Panasonic, Hitachi, JVC and Toshiba cameras, and in all cases the control data is multiplexed together so that the camera can be controlled from one single data connection and an IP network – a method which Bradley has proven with the cabling in many large venues.
The XM camera head is similar in design to the company's popular U4, U5 and U6 models, and comes in two variants, a double sided camera head or a single-sided L-shaped camera head. There will be a number of other small improvements to give a better 'feel' to the operator.
Bradley Engineering's remote camera heads and accessories are suitable to use out of doors, or in large indoor spaces such as conference auditoriums, theatres, parliaments. They have often been used to film wild animals in their natural habitat.
www.bradeng.com
(IT)
Top Related Stories
Click here for the latest broadcast news stories.