Broadcast News
10/03/2014
FLAMIN Productions: Latest Round Announced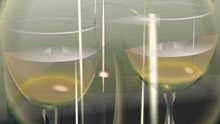 Film London Artists' Moving Image Network (FLAMIN) has launched the latest round of FLAMIN Productions, a scheme offering development, production funding and support to the capital's artist film-makers.
Film London will approve up to three new moving image artworks throughout the scheme, with awards amounting to between £20,000 and £40,000 per commissioned film.
The deadline for applications is 17:00, Tuesday 27 May 2014.
Funded by Arts Council England, FLAMIN Productions works to enable artists to produce original moving image works.
Since FLAMIN Productions was launched in 2009, eighteen artists' commissions have been awarded to Ben Rivers, Elizabeth Price, Anja Kirschner & David Panos, Charlotte Ginsborg, Phil Coy, Emily Wardill, Laure Prouvost, Ursula Mayer, Hilary Koob-Sassen, Sebastian Buerkner, Rachel Reupke, Jane & Louise Wilson, Zarina Bhimji, Simon Martin, Mark Leckey, Grace Schwindt and Gail Pickering.
"The scheme's success is attributed to backing talented artists with a strong vision, combined with providing development support, bespoke training, advice and professional mentoring," a statement from Film London said.
Recent successes have included Ben Rivers' award-winning feature length Two Years at Sea, which was released theatrically and recently acquired by Channel 4; Elizabeth Price's West Hinder, which was part of the exhibition for which she won the Turner Prize in 2012; and Sebastian Buerkner's The Chimera of M (pictured), which won the Canon Tiger Award for Short Film at Rotterdam International Film Festival 2014.
"Supporting artists at key stages of their careers lies at the heart of what the Arts Council does and these new commissions will give artists working in moving image the opportunity to create work that matches their artistic ambitions," said Peter Heslip, Director Visual Arts, Arts Council England.
"We are proud to support FLAMIN Productions through the inclusion of Film London in our National Portfolio and we look forward to seeing this work come to fruition over the next few years.
"The scheme has an impressive list of alumni whose commissioned works have been screened internationally and received prestigious awards; we look forward to seeing this year's artists emulate their success."
Adrian Wootton, Chief Executive of Film London and the British Film Commission, commented: "Central to Film London's strategy is to ensure we continue to discover and nurture London's film-making talent. Through FLAMIN, with crucial funding from Arts Council England, we support artist film-makers to develop and produce interesting works which also progresses them in their careers."
"FLAMIN Productions represents a unique opportunity, offering substantial financial investment alongside a generous raft of practical support from development through to exhibition," said Maggie Ellis, Head of Artists' Moving Image at Film London. "This diverse slate of work looks set to repeat the fantastic success of FLAMIN Productions and I look forward to seeing the artists and their projects realise their tremendous potential".
Download the guidelines and access the online application form via the FLAMIN Productions section of the
FLAMIN website
(IT/JP)
Top Related Stories
Click here for the latest broadcast news stories.