Broadcast News
20/01/2014
DPA On Tour With Andrea Bocelli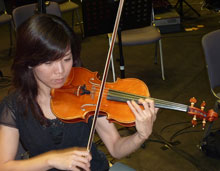 Andrea Taglia, live sound engineer for the Italian tenor Andrea Bocelli, has been speaking to DPA Mics about his own personal collection, which he regularly takes on tour.
"I've been using DPA microphones for many years and bought my first stereo d:dicate™ 4006 Recording Microphone when it was still known by the old Bruel & Kjaer name," Taglia says.
"I first became familiar with the DPA brand when I was using DPA miniature microphones on singers in musical productions. Eventually I began experimenting and started using them on instruments as well, which gave me great results. I'm now a huge fan and have bought quite a few for my own microphone collection, including d:dicate 4006 and 4011 Recording microphones and a selection of d:screet™ 4090 and 4061 Miniature microphones.
"I made a conscious decision to stop touring in 2003 when my second son was born, but when I met Andrea in 2006 he persuaded me to go back on the road – although these days I only go on tour with him," Taglia says.
Bocelli's most recent concerts have taken place all over the world and in each venue Taglia has supplemented his own DPA collection with additional microphones supplied by DPA's Italian distributor M. Casale Bauer.
"We used DPA d:screet 4061 Miniature microphones as close proximity mics for the strings - four on first violins, three on second violins, three on violas and three on cellos," he explains.
"We have also been using them for our guest violin soloists and for our guitar duo CARisMA, who usually play at Bocelli's concerts.
"I'm also a big fan of the DMM0007 rubber holder as it allows me to position a 4061 miniature microphone very close to the strings on an acoustic guitar without annoying the musician playing it. With this solution I can get the full sound of the instrument in a way that wouldn't be possible with a pick-up.
"Over the years I have used literally tons of DPA miniature microphones on singers in the theatre and I've also used my fair share of d:vote™ 4099 Instrument Microphones on double basses and cellos," he says. "Every time I need a linear, true microphone that is capable of handling high SPL, I always choose DPA."
www.dpamicrophones.com
(IT/CD)
Top Related Stories
Click here for the latest broadcast news stories.