Broadcast News
15/12/2014
Rock Duo Use DPA Microphones On Recent Tour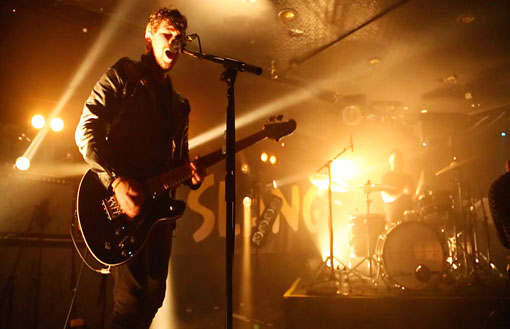 Rock duo Royal Blood have been using a range of DPA microphones on their recent UK tour.
"We use DPA's d:facto Vocal Microphone on vocals and d:vote 4099 Instrument Microphones on snare bottoms and toms," said Front of House engineer Phil Jones from Output Audio. "I was never a fan of snare bottom and now literally can't imagine not using one."
Jones adds that he is now a confirmed fan of the quality that DPA microphones deliver.
"They just sound great. The d:facto Vocal Microphone is genius. Even in a small club I can get it as loud as most dynamic mics without hideous feedback, but the sound quality and 'intelligibility' is still there. Both the d:facto and the d:vote 4099s sound very natural without having to use any obvious big cuts and boosts. It makes for a far better starting point EQ and processing-wise, as long as your source is good."
Brighton-based Royal Blood consist of bassist & vocalist Mike Kerr and drummer Ben Thatcher. Jones started off playing the drums himself and so has a fine appreciation of the amount of spirited abuse Thatcher gives his kit.
"Honestly, I didn't think the d:vote 4099s would survive with the way Ben plays drums," Jones says. "A couple of times in the summer he pushed the whole drum kit over and I was mildly terrified what I would find when the risers got pushed round. But, fingers crossed, no problems so far. The d:vote 4099s are so small and discreet they just stay out of the way, which is extremely important. They sound very natural; they sound like the drums! I do very minimal EQ work and that's what we like — natural sound."
As part of that creative experimentation Jones has been using a DPA d:discreet™ 4091 Omni-Directional Miniature Microphone on Thatcher's kick for a couple of months now and says that it has been an eye-opening experience.
Royal Blood's autumn tour and subsequent clutch of European dates were thrown into disarray when Kerr went down with tonsillitis. However, dates are being rescheduled, and it's almost easier to find places where they aren't playing in 2015 than where they are, with a support slot on a North American tour with the Foo Fighters being one of the highlights.
www.dpamicrophones.com
(CD/MH)
Top Related Stories
Click here for the latest broadcast news stories.