Broadcast News
10/01/2014
BFI Announces 2014 Cultural Highlights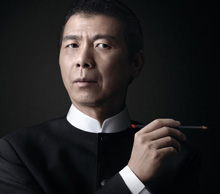 The British Film Institute (BFI) is to focus on China next year as part of its cultural programme for 2014.
The BFI says it will deliver a ream of cultural projects "focusing on this hugely important territory", as the country prepares to become the world's biggest box office nation. Director Feng Xiaogang (pictured), often described as China's Spielberg, is to begin the celebrations with a season of his work at BFI Southbank in February.
In June, the BFI will stage an extended four-month CHINA season in partnership with Toronto International Film Festival. This will include previously unseen rarities of the silent era from 1903 to the 1960s, such as The Goddess (1934), as well as more contemporary features like Farewell My Concubine (1993) and In the Mood For Love (2000). The season promises to showcase over 80 films and to "trace the shared cultural and historical connections between the cinemas of the Mainland, Hong Kong and Taiwan".
The programme will be divided into five distinct strands running over subsequent months until the end of September: Golden Age; A New China; Swordsmen, Gangsters and Ghosts; New Waves and New Directions.
The BFI's cultural programme for the coming year will also include a focus on the sci-fi genre, following its exploration into the world of horror with the 'GOTHIC' season towards the end of last year.
Things to Come: Science Fiction will be presented over four months (October 2014 - January 2015) with a historical and thematic exploration of sci-fi over three themes: Tomorrow's World, Contact! and Altered States.
Screenings will include Close Encounters of the Third Kind (1977), Alien (1979), The Planet of the Apes (1968) and the prophetic British classic The Day the Earth Caught Fire (1961).
BFI Creative Director Heather Stewart said: "BFI style, we are approaching our Science Fiction blockbuster in unexpected ways in 2014. Of course it will incorporate space invasion, intergalactic wars and aliens but we will be going beyond to explore worlds of imagination and imagined worlds, films that portray fantastical futures but that speak to our very earthly deepest fears and dreams. Die hard Sci-Fi fans will be delighted but a whole new audience who hadn't realised this genre is for them will be captivated."
Also included in the BFI calendar for 2014 is a two-month Al Pacino season from February – March, including an extended run of The Godfather Part II restored in 4K .
The 28th BFI London Lesbian and Gay Film Festival will return to BFI Southbank from 20 to 30 March 2014 to present the best in queer cinema from around the world.
James Dean is also to feature in the BFI 2014 programme, with the restoration East of Eden (1955), Rebel without a Cause (1955) and Giant (1956), re-released by Park Circus from 18 April.
Image – courtesy of BFI National Archive
www.bfi.org.uk
(IT/JP)
Top Related Stories
Click here for the latest broadcast news stories.