Broadcast News
10/01/2014
Video Entertainment Continues To Grow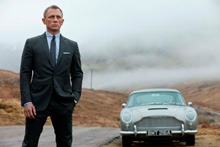 Consumer spending on video entertainment in the UK grew from £2,245bn to £2,256bn in 2013, according to figures released by the British Video Association (BVA).
This was driven by a 40.2% rise in spending on digital video entertainment to £621m and a 10% rise in Blu-ray spending.
Despite the rise, the BVA said, physical formats still crowd the market, with more than 162.2 million units sold last year overall. Discs represented 73% of the total video retail and rental sectors by value.
Shops account for 88% of impulse purchases, while the internet is mainly used for planned purchases such as gifts. Retail sales amounted to £1.438bn, indicating a decline of 6.8% on 2012. DVD volume sales fell by 11.5% and Blu Ray increased by 12.4%.
"The rise in revenue from digital video entertainment reflects the growing number of people who are using connected devices and the increasing ease of access to video services in and out of the home, driven by the strong demand for the smaller tablets and jumbo smart TVs," the BVA said.
Estimates suggest that over 10 million tablets were sold last year alone, along with 1.8 million smart TVs.
Lavinia Carey, Director General of the BVA, said: "These results demonstrate that the millions of people who bought video titles as Christmas presents are joined by millions more who just love watching video all year round, in both physical and digital formats. The top three titles alone sold almost 8 million copies between them.
"The industry has no doubt that viewers' up-take of digital services will continue to grow over the coming year, but at the other end of the market there's also huge appeal in DVD and the crystal clear sound and picture of a Blu-ray Disc on a big high-definition TV sitting back with friends or family. More and more of us are doing both."
The five best sellers by volume (DVD and Blu-ray combined) were Skyfall, The Hobbit – An Unexpected Journey, Les Misérables, Despicable Me 2 and The Twilight Saga – Breaking Dawn Part 2.
www.bva.org.uk
(IT/JP)
Top Related Stories
Click here for the latest broadcast news stories.