Broadcast News
18/12/2013
Gremmelspacher On Petrol Bags...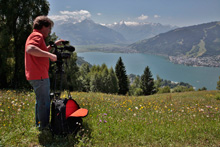 Production company ask-Television specialises in adventure and travel film, as well as more industrial productions.
Cinematographer Martin Gremmelspacher from Germany, who was involved in the making of travel series Golf Tours, works with the Deca Campack Camera Backpack (PC301) by Petrol Bags.
This year, Martin Gremmelspacher filmed with the Canon XF305.
"I was on the road in Portugal, India, and Austria," he says.
"But during my numerous flights and trips, I don't have to worry about my equipment: All of my equipment is safely stowed in the Deca Campack Camera Backpack by Petrol Bags.
"In addition to its low weight, I especially appreciate two things about my Petrol Bags backpack: the countless partitioning possibilities and the side pockets," says Gremmelspacher.
In the separate compartment on the backside of the camera backpack, there is also space for a laptop with a 17" screen.
"The Deca Campack also wins me over in terms of quality," notes Gremmelspacher. "Of course, the weather is mostly sunny for the filming of travel programs, but sometimes thunderstorms suddenly appear in the sky. No matter how much it rains, my equipment never gets wet. Next year, I will be traveling to Asia and South America to film a documentary. My Deca Campack Camera Backpack will accompany me again."
www.petrolbags.com
(IT/MH)
Top Related Stories
Click here for the latest broadcast news stories.