Broadcast News
29/05/2012
On The Tracks Of Climate Change With The Petrol Bags Deca Campack Plus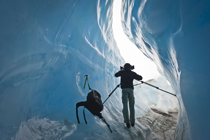 In the 80-minute documentary WARMZEIT, director Knut Karger describes the global dimensions of climate change and how working with nature is the only way to secure the future of humanity. In every part of the world, global warming has brought climatic changes, which also have an effect on how people live – to different degrees depending on the latitude.
"It's not only about how we change the environment; it's also about how dependent we are on it. We are only a part of nature, and we have to change our thinking and actions accordingly," said Flo Schneider, producer at lüthje schneider hörl | FILM.
The film team visited people in three different climate zones who are already being confronted with the consequences of global warming. They filmed their everyday lives with an Arriflex SR3. "This meant we had to travel a lot. To minimize wear and tear on the equipment caused by frequent travelling, we carefully chose our transport solutions," says Schneider. The team selected the Deca Campack Plus backpack-carrying system by Petrol Bags, part of Vitec Videocom, a Vitec Group company.
Filming between the Arctic Sea and a continental ice sheet
The film team had to adapt to different filming conditions and protect equipment accordingly. "In particular, we had great respect for the extreme cold in Greenland," explains cinematographer Tobias Tempel. Thanks to the unique 'seven-layer protection system' made from carefully combined high-quality materials, the Deca Campack Plus from Petrol Bags dependably protects equipment from the weather and jolts.
"We filmed a lot on Greenland's continental ice sheet. Icebergs are staggered behind one another like dunes. Meltwater runs together everywhere. Trickles become streams, then rivers, then rapid currents, which flow on and under the ice crust. This breath-taking ice landscape is, contrary to expectations, not snow-white; it is grey due to sand, dust and soot deposits. We were able to place the backpack directly on the ice. Inside the backpack, the camera was insulated from the cold," reports Tempel.
Walking across glaciers and ice fjords
While transporting the equipment through sometimes rough terrain, the compact design of the Campack Plus proved to be very practical. "Particularly during the long treks on foot between cliffs and ice, I was glad I was able to carry a part of the equipment comfortably on my back and, in doing so, keep my hands free.
The spaciousness of the backpack also surprised us. We were able to comfortably pack our Arriflex SR3 with accessories inside and adjust the padded dividers so that the camera would stay optimally protected inside the backpack. This really impressed us," continues Tempel. "Whether on Greenland's cold ice or in dusty dry Namibia, the Deca Campack Plus always offered optimal protection, and as the backpack itself is so lightweight, we were even able to take it as hand luggage on the flight. This way we were able to keep an eye on our equipment. It couldn't have gone better."
WARMZEIT is a production of lüthje schneider hörl | FILM and Bavarian Broadcasting (BR) and supported by FilmFernsehFonds Bayern. WARMZEIT recently celebrated its premiere. After this year's festival tour, the film will be broadcast on German television.
www.sommer-kommunikation.de
(GK)
Top Related Stories
Click here for the latest broadcast news stories.