Broadcast News
18/12/2013
Serving A New Broadcast Landscape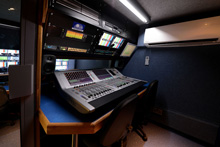 Broadcasters are facing increasingly fierce competition from a host of content delivery services, such as Netflix, YouTube and Voddler, meaning the industry will have to find new ways of engaging viewers, writes Eamonn Dowdall, business development director, Gearhouse Broadcast.
In addition, the proliferation of PVRs, catch-up and on-demand services has created a real change in end-user habits. Consumers are more likely than ever to make use of time-shifted viewing, with access at a time and a place that suits them. Encouraging consumers to watch scheduled content is one of the main challenges that broadcasters face. Live content is one area that bucks the trend for time-shifted viewing. For broadcasters, this is one of the main ways to drive audience engagement, and they're increasingly looking at covering a wider range of sports and live events. We can all expect to see more non-mainstream sports, live events such as concerts, movie premiers, awards ceremonies and extended news coverage (such as elections or celebrity weddings) on our TV screens from now on. However, from a broadcaster perspective, capturing this type of live event presents them with something of a challenge.
More Content, Fewer Resources
Broadcasters have to find a way of delivering more live content affordably, without compromising on overall quality. Maintaining production values across a growing amount of live productions means that any OB set-up, however large or small, has to be able to support full HD quality and be flexible enough to cope with a sports production on the one hand and a red carpet event or concert on the other.
Producing more content with fewer resources is the new reality for broadcasters. This is where commissioning an OB truck presents a huge challenge.
At the moment the OB production world is one of two extremes; we have large 20 plus camera sports production, or small one or two camera ENG flayways. With a big OB truck or supertruck, the build time of several months means there's a significant cost associated before you've even thought about investing in all the equipment to get it properly kitted out.
To date, the mid-section of the OB market has not really been an area that broadcasters, OB companies and manufacturers have placed much emphasis on at all. Large OB trucks are impractical for smaller events, and can't be used in hard to access locations or where space is at a premium. At the other end of the spectrum, small flyaways are unable to handle the more complex requirements of a six to eight camera live production.
Compact Doesn't Have To Mean Small
The obvious answer for a mid-sized OB vehicle is to use a Sprinter van or similar. However, the wheel bases limit the space available for equipment – not ideal for a 5-8 camera production.
Gearhouse Broadcast's Systems Integration division has designed a mid-sized HD OB trailer, OBLite, specifically for this segment of the market. It aims to provide a compact but flexible footprint that can still cope with a complex production workflow. The trailer has been designed to combine the maximum amount of functionality in as small a space as possible, while still comfortably housing a large enough production crew. It can accommodate a production gallery, audio workstations and engineering control area.
OBLite features an end-to-end live HD production workflow and is kitted out with eight Hitachi camera channels (seven SK-HD1200 portable-type production cameras and one SK-HD1500 6G Super Slow-Motion camera); a Ross Carbonite vision mixer; a Harris Broadcast Platinum router and Glue; Harris Broadcast test and measurement systems; a Studer Vista audio mixer; and a Harris Broadcast Inscriber CG system. There are Marshall video monitors throughout the trailer, along with full talkback capabilities. The flexible design means it can easily be up or down-speced.
Low power consumption makes it ideal for covering events like festivals, red carpet events or concerts. In addition, there's no requirement for a driver with a special HGV license – you can just hook it up to a 4X4 instead.
Looking Beyond Traditional Broadcast
It's not just traditional broadcast content that a mid-sized OB vehicle would be appropriate for. The growing number of non-traditional content delivery platforms, such as IPTV and live web streaming service providers, are also looking at producing unique content.
A more compact and affordable OB option that still provides a high quality output offers a convenient way to do this, deliver more services/channels and compete with bigger broadcast rivals.
Read the article in the online edition of RFV
here
.
(IT/JP)
Top Related Stories
Click here for the latest broadcast news stories.