Broadcast News
09/12/2013
Tricaster Journeys To Antarctic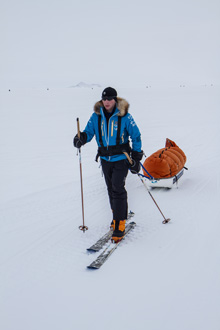 A NewTek TriCaster 860 multi-camera production system is being placed at the heart of a studio and control room streaming live footage from the Antarctic.
19-year-old Parker Liautaud is aiming to set a new world speed record from the Antarctic coast to the South Pole.
Willis Resilience Expedition TV – named after the expedition's backers – will use the TriCaster to produce a live 60 minute show each day for 16 days during the expedition.
The show will take a magazine-style format, including live updates, environmental news stories, news analyses and studio debates involving leading climate scientists, environmentalists and government figures.
Programming features live video and audio satellite feeds from the custom-built expedition support vehicle in Antarctica, together with video from three Sony PDW-F800 HD cameras in the studio, previously edited VT material, on-screen graphics, and Skype calls from global contributors.
The TriCaster's additional outputs will supply Willis' internal network as well as a large screen situated in the Willis building. The finished programmes will be shared online with Willis HQ in the US for re-versioning and content will be streamed to Willis' media partners all over the globe.
Alex Trezies, Managing Director, Shift 4, said: "For a live show like this, when there is only one chance to get it right, we know we can rely on TriCaster. It gives us all the inputs and outputs we need, plenty of graphics and effects, automation and built-in live streaming, with an intuitive interface. TriCaster enables us to produce professional quality programming that fits our clients' budgets."
Josh King, Senior Vice-President, Group Marketing and Communications for Willis, commented: "We have an exciting journey to share, and an important issue to discuss, with viewers around the world who are focused like us on how companies, places and people can become more resilient. The team at Captive Minds has helped us to tell this story and have this conversation in a richly creative and technologically-advanced way with the largest possible audience."
Simon Greenwood, Series Producer for Willis Resilience Expedition TV at Captive Minds commented: "I am excited by this opportunity for a televisual examination of the impact of climate change. We are indebted to Willis for having the ambition to make it happen. It hasn't been easy building a large, fully soundproofed studio to operate in a working reception area. The team has been hand-picked for a task that will require cool, calm heads."
Visit
www.willisresilience.com
each morning until 16 December 2013 at 08.30 GMT to see the live show, or visit
www.youtube.com/user/WillisResilience
to catch up on previous shows.
(IT/JP)
Top Related Stories
Click here for the latest broadcast news stories.