Broadcast News
03/12/2013
Camera Corps' Q-Ball Captures Vettel Victory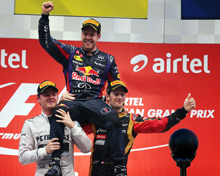 Camera Corps' Q-Ball remote cameras were used to capture Red Bull driver Sebastian Vettel's victory in the U.S. leg of the 2013 Grand Prix season on 17 November this year.
The host broadcaster relied on Q-Ball to to capture the season's biggest moments; notably when pictures of Vettel accepting his trophy as the four-time winner of the 2013 Grand Prix at the Indian Grand Prix were broadcast to millions worldwide.
"Success breeds success," comments Shaun Glanville, Business Development Director of Camera Corps.
"Our aim is to design and build remotely controlled camera systems that offer engineers the high-precision control that a driver would demand from a racing car.
"Many of the world's leading broadcast producers in sport, documentaries, music productions and reality television shows, prove that we have accomplished this ambitious goal and continue to do so.
"The images obtained from a Q-Ball camera of the Formula One Grand Prix winner is a classic example of the quality and flexibility of the Q-Ball system."
Q-Ball cameras are used by broadcasters worldwide, and by the Red Bull production team itself, to cover large sports events. Other recent applications include capturing the victory celebrations at a major UK motor race this summer, followed by World Series Diving from Boston Harbor, Massachusetts.
Each Q-Ball incorporates a 10:1 zoom lens, enabling the remote operator to produce wide angle and close-up shots while retaining full control of pan and tilt.
Developed and produced by Camera Corps both for rental and for sale, the Q-Ball has delivered close-up video from many events in recent years, including the BBC Proms, Summer and Winter Olympics, international football, motor racing, water sports, tennis, football and rugby.
The Q-Ball head is a weatherproof cast-aluminum sphere of similar diameter to a standard Compact Disc or DVD.
Inside is a 1080i camera with 10:1 zoom optics plus a fully rotatable pan and tilt head. Motors enable the operator to adjust the camera angle from practically any location, including smooth adjustment of vertical and lateral tracking speeds.
www.cameracorps.co.uk
(IT/JP)
Top Related Stories
Click here for the latest broadcast news stories.