Broadcast News
18/11/2013
Sony 4K Systems Roll Out Across Turkey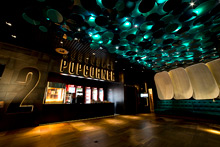 Cinema PINK, one of Turkey's largest cinema operators and dcinex, the leading pan-European provider of integrated solutions for cinema operations, are to roll out 113 Sony 4K digital cinema systems across the country.
Selim Yavuzoglu, CEO of Cinema PINK said: "We made the decision to contract with dcinex because they offered a very competitive financing solution combined with expert technical support and knowledge from their significant roll out experience across Europe. With the help of dcinex we will be able to complete our full roll out within a short time frame. We have selected Sony 4K digital systems because of the extraordinary image quality this projection equipment delivers to our visitors."
Serge Plasch, Chief Executive Officer of dcinex, added: "It's great that we have reached agreement with Cinema PINK. As one of Turkey's largest exhibitor this is of key strategic importance to dcinex."
dcinex technicians are already managing the installations for the two new Cinema PINK complexes, Demirören 6 screens that will open its doors tonight and Akmerkez 8 screens that will open within the next month.
Under the terms of the agreement with dcinex, Cinema PINK will have Sony 4K DCI-compliant digital projection systems and Sony 3D systems installed into 11 complexes before the end of first quarter 2014.
All systems will be directly connected to dcinex' Network Operations Centre which will perform the hotline support and the preventive remote maintenance.
www.dcinex.com
(IT/CD)
Top Related Stories
Click here for the latest broadcast news stories.