Broadcast News
13/10/2014
SMPTE Standards Ready To Boost 'Wow' Factor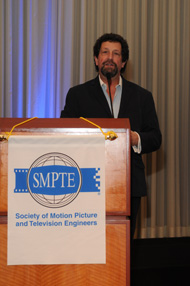 Current study and standards work is paving the way toward a richer, more immersive theatre experience, writes Brian Vessa, Chair of SMPTE Cinema Sound Systems Technical Committee (TC-25CSS) and executive director of digital audio at Sony Pictures Entertainment.
The newly published SMPTE report 'B-Chain Frequency and Temporal Response Analysis of Theatres and Dubbing Stages' is the first document to make a comprehensive review of the state of current exhibition and dubbing theatres and the cinema audio standards originally written three decades ago in the era of analog optical cinema sound to which they are calibrated (the existing standards on cinema sound, ST-202 and RP-200, were both established in the 1970s.)
The content of this fresh, nearly 200-page report, will be featured at a session at the 137th International Audio Engineering Society Convention (AES137) in Los Angeles, California and represents data found over the course of nearly three years of study.
During this study, SMPTE's B-Chain Study Group undertook testing at six different cinema auditoriums, including two mixing stages and four exhibition theatres, in order to gather data on the current state of cinema sound system electroacoustic response and calibration.
Rather than examine the audio playback of the soundtrack that accompanies the image medium, or the 'A-chain', the research focused on audio equipment in the auditorium such as speakers, amplifiers, screen and the cinema room EQ itself, or the 'B-chain'.
The resulting report, created by SMPTE's Cinema Sound Systems Technology Committee (TC-25CSS), details the scope of the study, the techniques used, the results of testing, what those results mean for the motion picture industry and what further steps – namely, the creation of new SMPTE standards and recommended practices – are indicated by those findings. The ultimate goal of this work is to improve the quality and consistency of cinema sound, bringing sound reproduction in diverse cinema spaces closer to that of the mixing stage.
TC-25CSS is not resting on its laurels with the conclusion of this significant step toward modernising standards and practices for cinema sound. Instead, the committee is moving forward with work on a recommended practice (RP) for modern digital cinema sound system setup and calibration, as well as a standardised pink noise test signal.
To establish the aforementioned RP, the committee gathered data on how the best calibration technicians today use the test equipment that is currently available to them. Aggregating the insights gained from this study into a 'best practices' methodology, TC-25CSS hopes to supply a normative step-by-step process for calibrating sound in cinema auditoriums.
While this process and the committee's documentation of it are intended to be accessible for cinema technicians with varied levels of experience and expertise, there is an accompanying series of annexes that offers a more complex, in-depth explanation of the data and theory behind the process.
This first-of-a-kind document gives cinemas a valuable tool for making the most of aging standards and, very often, aging equipment. By using this setup and calibration process, exhibition cinemas will be able to present audio that better reflects the original soundtrack mix and, in turn, will provide cinemagoers with a richer all-around experience.
SMPTE is planning to build on this advance and further improve cinema sound by creating new performance standards for cinema sound systems to ensure the optimum playback of soundtracks.
Upgrading Antiquated Playout...
While digital technology allows the bold and even visceral nature of today's soundtracks to be preserved right through from the mixing stage to the theater, the performance of equipment installed at the exhibiting cinemas often compromises both sound quality and artistic intent. Designed for a different era of cinema sound, governed by decades-old standards, the aging equipment in many cinemas simply is not equipped to replicate current soundtracks and scores accurately.
What's more, there are currently no performance standards or baselines in place, which may be referenced in the attempt to reach this goal. To address this shortcoming, SMPTE is working to engage stakeholders – studios, exhibiting cinemas, and the public – to raise presentation of both images and audio to a 'wow' standard.
The emergence of immersive audio promises to deliver a boost the 'wow factor'. Recognising the significance of this technology, SMPTE's Study Group on Immersive Audio published a detailed report addressing the cinema industry's evolution toward an expanding range of audio formats, with additional audio signals driving height and overhead speakers to achieve a more immersive experience. This included an examination of ways to deliver an immersive experience using a common distribution method and possible shared B-chain attributes. The resulting report provides an examination of six different immersive audio systems and recommends standards for a standardised object-based audio deliverable.
Working Towards Standardisation
The impetus provided by this report – as well as the considerable interest shown by studios, cinema owners and manufacturers involved in creating digital cinema technologies and products – led to SMPTE's creation of a new Working Group focused on the interoperability of immersive sound systems and the standardisation. The suite of defined standards currently in the works will address the creation and delivery of a standardised immersive audio format, along with considerations for playing immersive audio within the theatre in an interoperable fashion.
The SMPTE Working Group is tackling standards creation in several steps. It is developing the first open standard for the object-based audio metadata that dictates how and where in a room a given piece of audio should play. The group also is working out the digital cinema delivery bitstream format and applying the sensibility of the modern calibration work noted above to immersive sound systems. In concert with the SMPTE Digital Cinema Technology Committee (TC-21DC), the group also is examining the architecture associated with the carriage, movement, and synchronisation of immersive audio and using its findings to standardise the technical elements of an effective and interoperable architecture.
When these elements are incorporated into an open standard, studios will be able to create a single mix and single digital cinema package (DCP) for delivery of immersive audio to theaters. The SMPTE-DCP provides a stable and future-proof format for digital cinema playback. Taking it one step further, the SMPTE DCP allows for the single immersive audio mix to be incorporated with 4K at higher frame rates, translating to a more immersive overall experience. For these reasons, there is a broad industry push for a rapid transition to SMPTE-DCP and greater adoption of the format in playback systems. What's more, the standards TC-25CSS are creating will help ensure that, whether 'regular' or immersive, the movie soundtracks incorporated into those deliverables sound consistent from theatre to theatre.
All of SMPTE's work on cinema sound will bring profound improvements to the experience of film in the cinema, and this is great news for studios, cinemas, and cinemagoers. Possibly even more exciting is the potential of these standards to inform manufacturers' future development of consumer electronics that enable an immersive audio experience in the home.
The article is also available in BFV
online
.
(IT/JP)
Top Related Stories
Click here for the latest broadcast news stories.