Broadcast News
30/10/2013
Director Jody Eldred Turns To Vinten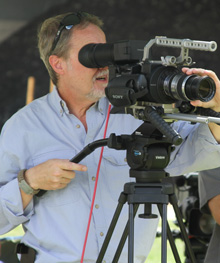 DP and director Jody Eldred has recently been trying out the lightweight Vinten Vision blue3 tripod system and the blueBridge accessory.
"I generally don't recommend that people use really lightweight heads for lightweight cameras," said Eldred.
"A lightweight camera and tripod system feels like you're moving a feather, so everything—even your heartbeat—is transmitted to that tripod and to the camera. It makes it difficult to do a very smooth pan or tilt, or even hold steady."
On a recent assignment in Seattle, Eldred paired the Vinten camera support equipment with a small Sony EX1 camera to pan and tilt while zoomed to nearly full telephoto. He credits the blueBridge with making the pan and tilt head feel as smooth as if it was carrying a much heavier camera payload.
"It still allows the tripod to be lightweight, yet at the same time it can handle a very light camera and have it feel like you're working with a heavier mass."
The blueBridge enables the raising of the camera's centre of gravity so the payload feels more massive on the pan and tilt head.
Eldred uses a wide range of cameras to accommodate his varied assignments.
"We don't want to have to carry around three different tripods for three different camera weights. Using one tripod system for a range of cameras not only saves the cost of the additional tripods, but it reduces baggage fees when traveling."
The Vision blue3 pan and tilt head alone has payload range of from 6.6 to 14.6 lbs (3 to 6.6kg). The blueBridge accessory expands that range to a minimum of 4.4 lbs. (2kg).
With the entire Vision blue3 weighing in at just 15 lbs, Eldred can pack the tripod along with other production equipment and still stay within commercial airlines checked baggage weight limits.
"My big mantra is that speed equals creativity. The faster you can work, the more time you'll have to be more creative in that work."
www.vinten.com
(IT/JP)
Top Related Stories
Click here for the latest broadcast news stories.