Broadcast News
29/10/2013
Canada Film Board Returns To Amsterdam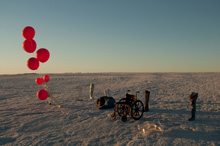 The National Film Board of Canada (NFB) is returning to the International Documentary Film Festival Amsterdam (IDFA) this year.
NFB will be showcasing Fort McMoney a new interactive documentary game; A Short History of the Highrise, the latest production in the NFB's vertical-living Highrise project; the interactive photo essay The Last Hunt; and the feature documentary Ariel.
Fort McMoney is a trilingual (English, French and German) interactive documentary game about the issues facing Fort McMurray, Alberta, a fast-growing community that sees over a million and a half barrels of oil extracted every day.
Launching online November 25, Fort McMoney is created by David Dufresne and produced by TOXA and the NFB.
The documentary game will allow users to immerse themselves in the town's environmental, social, cultural, economic and political concerns. By meeting citizens and key players in Fort McMurray's development, users can interact with a virtual version of the city and participate in major debates, influencing the direction of the game for all players.
Directed by Katerina Cizek, and produced by the NFB and The New York Times, A Short History of the Highrise tours the 2,500-year global history of vertical living, examining issues of social equality in an increasingly urbanised world.
The work is divided into four films, like chapters in a book, and uses rhyming narration, animated photographs, game play and responsive videos to create immersive, exploratory experiences.
A Short History of the Highrise is written and directed by Katerina Cizek.
IDFA will also present the NFB's new interactive photo essay The Last Hunt.
Created and produced by the NFB's Digital Studio in Vancouver, the interactive photo essay delves into the motivations that led Montreal photographer Alexi Hobbs to photograph his grandfather's last hunting expedition.
With story and photography by Hobbs, The Last Hunt creative team includes Jeremy Mendes as co-creator/art director, Vincent McCurley as creative technologist/developer and Jennifer Moss as writer. Dana Dansereau is the producer, with Loc Dao as executive producer and creative technologist Rob McLaughlin is also executive producer.
The festival will also see the European debut of Ariel, a story about a 33-year-old Argentinian whose legs were shredded by an industrial dough mixer in Mendoza, Argentina.
Director Laura Bari's work juxtaposes Ariel's daily life with dreamlike inner worlds, pushing the boundary between the real and the imaginary.
The documentary is co-produced by the NFB, Parabola Films and Beso Film.
The National Film Board of Canada has produced over 13,000 productions and won more than 5,000 awards, including 4 Canadian Screen Awards, 7 Webbys, 12 Oscars and more than 90 Genies.
The International Documentary Film Festival Amsterdam takes place November 20 to December 1, 2013.
www.idfa.nl
onf-nfb.gc.ca
(IT/JP)
Top Related Stories
Click here for the latest broadcast news stories.