Broadcast News
02/10/2013
Creative Skillset Launches Trainee Finder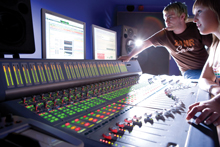 Creative Skillset has announced Trainee Finder; a new scheme to enable graduates and trainees to connect with companies within the film, TV, games and animation industries.
Trainee Finder offers companies not only access to new trainees from a diverse talent pool, but also the the opportunity to receive match funding towards the individual's training allowance.
As part of the Creative Skillset Skills Investment Fund (SIF), Trainee Finder offers placements for graduates and trainees to gain on-the-job experience and enable them to get a foothold in the industry at the beginning of their career.
Trainee Finder is accessible to those companies contributing to the SIF via agreed industry collective arrangements.
Debbie Vertue, Director of Operations, Hartswood Films said: "The UK television industry already has an unsurpassed wealth of talented crews, technical skills and facilities, but it is vital we invest in new and emerging talent to maintain and build on our global reputation.
"Trainee Finder is timely and wholly necessary for our TV industry. It will create an accessible portal for entry level candidates to get their foot on the ladder, where they will be helped to find excellent training through industry schemes and be matched with companies and productions to make them 'work ready'. Hartswood Films are pleased to be ahead in showing our support for this exciting new scheme."
Oli Hyatt, Co-Founder of Blue Zoo and Chair of Animation UK added: "This country has an illustrious heritage in animation, a wealth of emerging young talent and is a major worldwide exporter of animation for TV but, until now, we were simply not competing on a level playing field with the rest of the world. UK producers faced increasingly subsidised competition from overseas, we saw our top talent moving overseas and there was simply not enough investment in the next generation of animation producers. Having successfully secured government approval for tax credits, the animation industry must ensure its workforce is skilled and ready to meet the predicted increase in production."
Kate O'Connor, Executive Director at Creative Skillset, added: "New talent with the passion and commitment to learn skills are the lifeblood of the creative industries and learning on productions or 'on-the-job' is one of the best ways of developing skills. Trainee Finder is vital in delivering training to the next generation and providing them with the skills to ensure the UK continues to be the world leader in the creative industries. The SIF has facilitated the development of Trainee Finder and two more SIF collective initiatives, the Challenge Fund and Commissioned Training, developed in response to identified industry needs, will launch shortly."
Trainee Finder is part of the Skills Investment Fund (SIF) programme administered by Creative Skillset.
The news follows the announcement by Creative Skillset of £280,000 funding available for organisations to provide training and skills development as part of its four-year film skills strategy.
The body has also announced £160,000 of funding for training and skills development in the priority areas of VFX and craft and technical.
www.creativeskillset.org/traineefinder
(IT/CD)
Top Related Stories
Click here for the latest broadcast news stories.