Broadcast News
30/09/2013
Kinesys Motion Control At PLASA London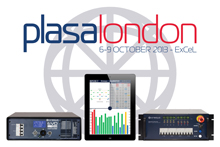 Motion control specialist Kinesys has announced three products it will be showcasing at this year's PLASA light and sound show at ExCeL London, 6-9 October.
The company will be presenting its GIS 250kg BGV-C1 39m/min hoist, which can be integrated with its EVO drive, including a SIL3 E-Stop system.
The integration of the SIL3 (Safety Integrity Level 3) emergency stop is intended to meet the rigorous safety requirements demanded today.
Designed to comply with BGV C1, EVO allows the motors to 'hover' without brakes being applied.
An integrated loadcell provides load information for controller and operator, while incremental and absolute encoders offer accurate positioning. Standard 32A 3-phase Ceeform power can be daisy chained through the controllers and communication is via high-speed Ethernet. The Evo controller also features an on-board display and manual controls.
Kinesys' DigiHoist will also be on show.
A Positioning and Ethernet option allows DigiHoist controllers to achieve accurate load positioning via encoders installed in the hoists.
Data from the encoders is fed directly into the controller, which can then have upper and lower software limits programmed to prevent over-travel of the hoist.
Operations will cease if the system detects a lack of hoist movement or movement in the wrong direction.
DigiHoist also offers Kinesys LibraCELL load cell reading capabilities, providing a full range of safety monitoring features for complex lifting requirements.
Ethernet connectivity allows for multiple DigiHoists to communicate with LibraWATCH, LibraWIFI and Kinesys' K2 and Vector automation control software platforms.
The latest LibraWATCH software will also be promoted at Plasa. New features include a Multipage view, the ability to drag and drop cells in the Stage Plan and ten languages as well as English. Multipage View enables the graphic, table and plan views to be shown together on one screen.
The user's configuration of the screen is auto-saved when LibraWATCH is closed and the next time the software is launched it continues exactly as it was left.
Further, a Drag and Drop feature has been added into the Stage Plan view.
The Bypass Option is another new LibraWATCH update, enabling the user to temporarily bypass load cells or groups for load-in operations. When a cell or group is bypassed, the channel will not trip the LibraPRO's relays or those within LibraWATCH's notifications or alarms.
Bypassed cells are easily identified at all times within the LibraWATCH interface and the function is not saved once the system is powered down. This last detail ensures that when the system is powered up, rig monitoring is always fully enabled.
New language packs for LibraWATCH make the software multi-lingual so touring and monitoring the loads of rigs in different countries is much more accessible. LibraWATCH can be displayed in English, Russian, Portuguese, Finnish, Turkish, Dutch, Swedish, French, German, Italian and Spanish.
www.kinesys.co.uk
(IT/JP)
Top Related Stories
Click here for the latest broadcast news stories.