Broadcast News
26/09/2013
Harris Broadcast Chosen By Gearhouse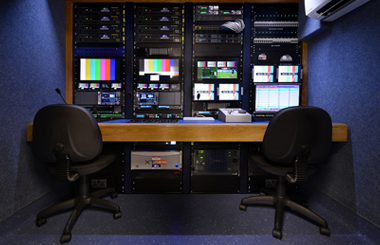 Harris Broadcast, a global supplier of content management and network infrastructure serving broadcasters, satellite, MSOs, IPTV, mobileTV and OTT providers, is working together with Gearhouse Broadcast to supply technology for a cost-effective and flexible HD outside broadcast (OB) concept.
The project centers around an eight camera channel HD OB trailer that can house an eight-person production crew. Targeting the small event OB market, the vehicle features Harris Broadcast's router, multiviewers, modular interface platform, computer graphics and video signal test and measurement systems.
This new concept targets the small event OB market, an area Gearhouse Broadcast says has been deprived of development and support. The trailer contains a compact footprint offering lower power consumption and ergonomic design while providing a discrete production gallery, audio workstations and engineering control area. Gearhouse Broadcast says this fully HD-capable OB vehicle is suited to a broad range of applications including IPTV and live web streaming productions with up to eight-camera live sports broadcasts.
"Our challenge was to design maximum functionality in minimum space and with inherent flexibility in set up and output," commented Eamonn Dowdall, business development director, Gearhouse Broadcast. "Harris Broadcast is the logical choice given its breadth of product portfolio and the integrated manner in which the company's workflow components operate. Without this capability, it would be difficult to build so much power and performance into such a compact OB facility."
"Gearhouse Broadcast leads the field in terms of its ability to develop mobile broadcast solutions that are suited to a broad diversity of production scenarios," said Mathias Eckert, vice president, sales and services, Europe & Africa, Harris Broadcast. "With this new HD vehicle, they have created a solution that will have broad international appeal and will be a popular exhibit at IBC."
Harris Broadcast
(MH/CD)
Top Related Stories
Click here for the latest broadcast news stories.