Broadcast News
28/08/2013
HARMAN's Studer Vital To Norway's TV2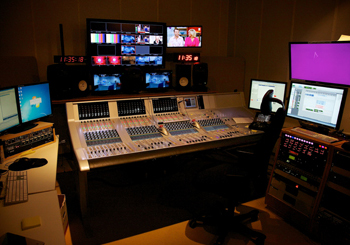 Ever since TV2 in Norway purchased its first HARMAN Studer mixing console in 2005, Norway's biggest commercial TV channel has enjoyed a strong relationship with Studer and Norwegian Studer distributor LydRommet AS. The ensuing series of Studer purchases and upgrades demonstrates TV2's ability to protect its investment with high-quality, efficient solutions.
The Bergen branch purchased an OnAir 3000 digital mixing console in 2005 and another one in 2010. It also added a Vista 8 console in 2007. The Oslo branched added two Vista 8 consoles and a Route 6000 system in 2006, while adding an OnAir 3000 console in 2007. In 2009, TV2 was one of the very first in the world to implement Studer's I/O sharing system, RELINK, between the two Vistas, the router and the OnAir 3000
In 2012, the Bergen location upgraded its first OnAir 3000 to SCore Live, doubling its DSP capability as part of rebuilding the news studio. This year, the OnAir 3000 in Oslo received the same treatment, when it was time for that studio to upgrade its facilities. In addition to the SCore Live upgrade, the OnAir 3000 in Oslo received additional I/O capability, and a desk extension.
Since The TV2 news channel is on air roughly 18 hours a day, I/O capabilities were enhanced in order to receive MADI signals directly from the video router, instead of relying on the routing system. This enables service and software upgrades to be completed on the router even when the news channel is on air.
TV2 invests heavily in system automation. For example, with its Mosart playout system, TV2 controls the OnAir 3000 consoles via the Studer Monitora protocol. This gives the engineer the freedom to work on sound quality, camera and lighting, without worrying about opening the right fader at the right time. In Oslo, the engineers are controlling the studio microphones from the console extension, before sending the feed to an audio group that is controlled by Mosart. Also, with the implementation of the EMBER protocol in the Vista 4.9 software, Bergen now controls even the Vista 8 consoles with Mosart.
And it continues, as TV2 Bergen is now installing a 22-fader Vista 5M3, which will network with the Vista 8 over RELINK.
"The relationship with TV2 exemplifies more than just one customer's commitment; it also shows how the Studer platform enables customers to protect their investments," said Espen Andersen of LydRommet AS. "TV2 is a technology-driven broadcaster constantly seeking better and more efficient solutions, and all the way the Studer mixing systems easily adapt through software and hardware upgrades."
TV2
LydRommet AS
HARMAN
(MH/CD)
Top Related Stories
Click here for the latest broadcast news stories.