Broadcast News
29/07/2013
Trilogy Communications Sends Messenger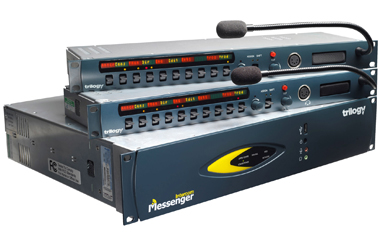 At IBC 2013 Trilogy Communications, a world class provider of high quality intercom systems and SPGs for studios, mobile production, playout and post will feature its new Messenger intercom system, making its European debut.
Messenger is an affordable yet powerful matrix-based intercom that includes the comprehensive features and functionality typically only found in far more expensive systems.
Messenger bridges the gap between the constraints of low-end, two-wire party line systems and the cost and complexity of high-end professional broadcast communication systems. The Messenger package is easy to install, simple to use, cost effective and is equally at home in small scale, simple installations or highly demanding multi-studio applications.
The centrepiece of Trilogy's IBC showcase will be Gemini, the company's distributed matrix intercom and IP panel range. Designed to satisfy the needs of the broadcast and professional media markets, each Gemini unit combines the benefits of a large-scale, non-blocking matrix with integrated IP connectivity.
Rounding out Trilogy's IBC stand highlights will be Mentor XL, a class-leading master reference generator that includes a new GPS option board that enables operation with traditional active GPS antennas while also being optimised to provide users with the ability to exploit the latest developments in "smart antennas".
Trilogy technology will also feature on the IBC stand of media transport leader Nevion (Stand 1.B71) which will not only show a fully integrated IP-based broadcast intercom system but will also take advantage of one of Trilogy's highly dependable Mentor XL Master Reference Generators.
Trilogy Communications
(MH/CD)
Top Related Stories
Click here for the latest broadcast news stories.