Broadcast News
16/07/2013
RTW To Participate In Africa Loudness Summit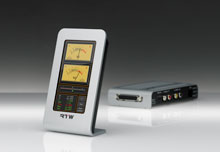 RTW has announced it will be participating in the Africa Loudness Summit taking place 17 – 19 July at this year's Mediatech Show in Johannesburg.
In addition, RTW will exhibit its TM3, TM7 and TM9 TouchMonitors at the Wild & Marr stands (G30, G38a).
The summit will feature a discussion by Florian Camerer, PLOUD chairman and EBU R-128 co-author, on the issue of loudness in Africa—its effect on broadcasters and the potential solutions that various vendors have to offer. RTW will contribute to the conference with a presentation on its TouchMonitor loudness meters.
The following is a description of the meters that RTW will have on hand:
TM3 and TM3-3G TouchMonitors
"Controlled using a touch-sensitive display, the TM3 and TM3-3G both have a budget-friendly base price, a 4.3-inch touchscreen and a stylish exterior allowing for horizontal and vertical placement. They include a large number of graphical and numerical instruments showing single-channel or, in the case of the TM3-3G, any of the eight audio channels contained in a 3G SDI stream used for metering, de-embedding and monitoring 3G SDI audio. Both also include summing-loudness bargraphs, PPM, true peak, SPL, loudness range (LRA), dialnorm and correlation. The TM3 and TM3-3G are highly appealing compact solutions ideal for editorial offices, edit suites and small control rooms.
"Both the TM3 and TM3-3G also feature PPM and true-peak instruments and offer comprehensive loudness metering in compliance with all globally relevant standards, including EBU R128, ITU BS.1770-3/1771-1, ATSC A/85 and ARIB. Finally, they also feature the Magic LRA instrument, specifically designed by RTW for intuitive visualization of the loudness range and integrated-loudness parameters. The units on display will be equipped with the new TM3-SWMC Software license, available as an add-on option, which incorporates a moving-coil emulation display."
TM7 and TM9 TouchMonitors
RTW will also have its TM7 and TM9 TouchMonitors on display, equipped with the new BLITS instrument option that is part of the new SW20013 software license.
The TM7 and TM9 feature a seven- and nine-inch touch-sensitive display, respectively.
The software visualises multiple sources simultaneously. Both support displaying the same signal on multiple instruments in parallel, each with dedicated defaults with both horizontal and vertical operation. The system visualises up to 16 analog and/or digital sources at the same time.
The TM9 is also capable of providing a view of up to 32 digital channels when the 3G-SDI option is implemented. Along with RTW's entire TouchMonitor range, the TM7 and TM9 were created to help adhere to all major industry loudness standards, including EBU R128, ITU BS.1770-3/1771-1, ATSC A/85 and ARIB.
www.rtw.de
(IT/CD)
Top Related Stories
Click here for the latest broadcast news stories.