Broadcast News
03/07/2013
Britannia Row Welcomes First Students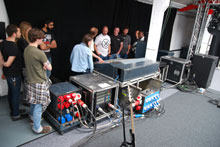 Britannia Row Productions has launched its education division with the opening of its Training Centre in Wandsworth, London on 1 July.
The first intake of trainees for Britannia's 'Live Sound Technology Course' includes students from England, Scotland, the USA and Portugal.
The full-time three month course has been designed to "address the skill shortage in live sound and to provide trainees with the skills and knowledge required to take up immediate employment as sound technicians in the industry."
Britannia Row Productions TRAINING Ltd's Managing Director, Matthias Postel, explains: "Britannia Row Productions, the live sound company behind BRP TRAINING, along with other companies and venues, have been disillusioned with the level of knowledge that new entrants have in this sector. There are limited opportunities to train for live sound and existing courses have little practical or industry input.
"We know what it takes to produce world class audio for live events and we know what technical, creative and personal skills are necessary for the successful sound technician. As well as receiving full core technical training in all aspects of live sound, our trainees will be versed in such aspects as health and safety, show procedures, customs documentation and even how to set up as and be in business as a freelancer for those who may chose that path in the future."
Course Director Barry Bartlett and his colleagues at Britannia Row Productions have designed and written the curriculum content, drawn from the Company's own apprenticeship program.
It integrates practice and theory and is being delivered by leading professionals in the industry.
Tutoring takes place in a 200 sq m space at the Training Centre supplemented by visits to live gigs.
The main teaching space is equipped with a variety of consoles, speakers, amplifiers and power distribution systems, monitors, microphones, multi-track play-back, radio systems, analysis equipment and predictor programs. There is a stage area with drums, keyboards and guitars. A work room is equipped with everything from benches and soldering irons to bench test equipment. The Live Sound Technology course is supported by L-Acoustics, Yamaha, Midas, Shure, Turbosound and Blackout who have worked on the room acoustics.
Qualifying trainees at the end of each course will be awarded a Certificate in Live Sound Technology. The top trainee from each intake is guaranteed the offer of 12 months paid work with Britannia Row Productions from the end of the course.
training.britanniarow.com
(IT/JP)
Top Related Stories
Click here for the latest broadcast news stories.