Broadcast News
07/06/2013
Red TX Helps Chime For Change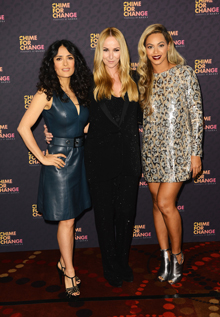 Broadcast audio suppliers Red TX worked on last Saturday's Sound of Change Live concert at London's Twickenham Stadium.
Gucci designer Frida Giannini, Beyoncé and Salma Hayek organised the concert, which raised over £2.6m to fund approximately 200 projects in 70 countries.
Billed as a feminist Live Aid, Sound of Change Live was a focal point for the Chime for Change campaign, which aims to improve education, health and justice for women around the world.
With both its Red I and Red II trucks on site, Red TX handled the broadcast audio by Splinter Films.
Splinter's Emer Patten was Chime's Broadcast Producer, co-ordinating the production for global transmission.
The Red TX teams consisted of Tim Summerhayes, Ben Summerhayes and Matt Silverston on board Red I; Ian Dyckhoff, Huub Lelieveld and Rohan Igoe on board Red II and Christian Postna as back up between the two trucks.
Ms Patten said: "As I've been working with Red TX for such a long time now, they really were the only choice for the job and I knew they wouldn't let me down.  We had our usual experience of a crazy busy schedule, coupled with a lot of fun and mutual respect. I love working with Tim and Ian, and it was great that we were able to bring in Huub for Red II, who took care of the C&D stages so fantastically for us."
According to Red TX director Tim Summerhayes, Sound of Change Live was the biggest and most complex live broadcast event the company has handled for quite a while.
"It was a little nerve wracking knowing we were responsible for a live broadcast audio feed that was going out to over 150 countries, but we just got on with it and tried not to think about how many people were potentially listening to our output," he said.
"We had three engineers on each truck, plus an additional sound man as a spare pair of hands. Mainly we were switching between trucks, from one performance area to another, but there were a couple of occasions where one team had to do back to back performances on the same stage and that meant we only had six minutes to turn everything around. It was complex, but thanks to a lot of careful preparation everything ran like clockwork and everyone was delighted with the end result."
Red TX worked closely with Britannia Row, which was in charge of the live sound, and Visions, which has its own OB truck at the event.
Sub mixes from each music mix truck were fed to Gary Moore on the Visions truck, who mixed in presentation audio. Gary also submixed the 24 audience mics and distributed this to himself and the two music mix trucks.
"Britannia Row and Visions are companies we know and trust as we have worked with them on many occasions in the past," Summerhayes added.
"I was particularly impressed with Britannia Row and have no idea how they held it all together. Every detail was worked out in advance with military precision – even down to having all the vocal mics and radio packs individually labeled for each artist so that nothing was left to chance."
www.red-tx.com
(IT)
Top Related Stories
Click here for the latest broadcast news stories.