Broadcast News
06/06/2013
Macabre Movie-Making, On A Budget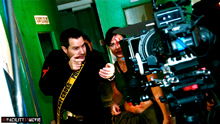 From Peter Jackson to Sam Raimi, some of Hollywood's biggest names launched their careers on violent, low-budget horror films. Mark Kenna, co-founder of Bad Blood Films, talks fear, frights and, most importantly, finance.
There are various ways to raise finance for your film. 75% of British films are funded privately, whereas 17% of films are funded or part funded by the filmmakers or production companies. Of course, there's a small percentage of films that are supported by the public sector through national or regional screen agencies too with most films qualifying for UK tax breaks which can be offset to raise cash for your projects. The EIS (Entertainment Investment Scheme) has allowed filmmakers to raise funds by offering exciting tax breaks that have a guaranteed payback, minimising the risk of investment. Recently, crowd-funding has had varying success to raise funds publicly for no-budget to micro-budget films but, typically, this works better for documentary or product-based projects. However, sourcing finance from a series of investment pools maybe a wise decision.
However you raise your finance, the real key to a successful production is a realistic and sustainable budget with a business proposition that will clearly outline your intentions for your film and, more importantly, how the investor will see a return on their investment over a 2-3 year period. To be a serious filmmaker in this business, you need to think like businessmen, offering a plan that is efficient, profitable and exciting, whilst minimising the risks.
We need to learn from the past, take note of the way people/film studios have been making films and couple this with new, hybrid ways of filmmaking, using technology as an advantage in both production and post production, marketing and distribution to come up with a sustainable model that will allow filmmakers to continue to make films going forward. A film should offer some guarantee of success based on previous facts and figures that the film that you want to make will sell. Making your film will cost money to pay the actors, post-production isn't free (despite what people say!) and to market, raising awareness of your film takes time and therefore has a cost associated with it. In fact, the marketing costs of your film may well be multiples of your actual budget and they're not going to work for free! Of course it's possible to make a film for a minimal amount (£50k and below = no-budget), but if you're in it for the long run, you'd better be prepared to pay people. Over three-quarters of low budget films in the UK films are no-budget to micro-budget (0-£250k) whereas the final quarter being low budget (£250k - £1 million +)
A note from the director: I wouldn't say that fear is easy to induce; a modern audience is pretty savvy when it comes to filmmakers trying to scare them, so i actually think its more difficult to induce fear now more than it has ever been. I think a lot of filmmakers get into making movies by starting with horror as it's one of the cheapest, production-wise to produce. If you have a big guy with a knife after a group of teenagers in a cabin in the woods then that's pretty cheap to film. I grew up on horror movies - everything from the Universal monster movies to the so-called 'video nasties' of the 1980s. I have a genuine affection for horror and believe that done right, horror films will move even the hardest of souls. Plus, it's alway fun to scare people!
The cinema industry has changed significantly over the past 10 years, since the introduction of digital cinema. Equipment has become cheaper, existing ways of filmmaking are changing; however, to remain in the business, you have to treat it like a business and not make films for the sake of making a film. Remember, the audience are looking for new and exciting content where production value is high, stories are fresh and they get value for money.
Mark Kenna [producer and co-founder at Bad Blood Films], is working on a slate of 5 British horror productions from the award-winning writer/director of Special Delivery, David Hawk (pictured).
Facility 31 is a British horror film about a group of Military Prisoners who are tasked with cleaning a remote, disused military bunker. After one of them goes missing and a power surge sends the facility into lockdown, disgraced officer Rosie has to overcome her guilt to face a shadowy enemy from her past that has unleashed a terrifying secret buried in the depths of the bunker, threatening to tear them all apart.
Read the article in the online edition of Regional Film & Video
here
.
(IT/CD)
Top Related Stories
Click here for the latest broadcast news stories.