Broadcast News
04/06/2013
Liverpool Institute Installs StudioLive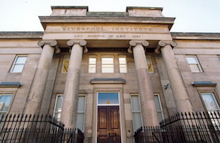 The Liverpool Institute for Performing Arts (LIPA) is now regarded as one of the leading performing arts schools in the UK, since being founded in 1996 by Mark Featherstone-Witty and Sir Paul McCartney.
"Our view is that every student should attain some knowledge of all the individual disciplines that make a performance possible," explains Jon Thornton, Director of LIPA's School of Sound Technology.
"While they study their chosen major in depth, including management, stage design, lighting, and sound engineering, they also have to develop a working vocabulary in each of these areas.
"We create an environment that's as professional as possible. It's all about interdisciplinary collaboration; it's as important for a sound engineer to understand what it's like to stand on stage as it is for an actor or musician to understand what it is like to mix at front of house."
The school is equipped with several tracking and mixdown rooms, and has recently added a StudioLive™ 24.4.2 digital console to its line-up.
"We've got a fair amount of studio equipment, and a fair amount of live sound equipment," Thornton says.
"But the StudioLive filled a perfect niche for us. First, it gave us something with a small footprint, which was great for lectures and events where a large desk is overkill. But more importantly, it blows away the boundary between a live desk and a recording console. The way you can quickly and easily plug in a laptop and capture multitrack audio for all kinds of gigs is great for us.
"We've got six studios with consoles ranging from SSLs to Icons," he says.
"But if a musician or an engineer says 'we don't want to sit in a studio, we want to track in, say, this vibe-y church we found somewhere,' it's really, really easy to just take the StudioLive and a small laptop rig to do tracking almost anywhere.
"The user interface on the StudioLive is great," Thornton adds. "It's a very intuitive, visual and tactile approach, with hands-on faders and a simple workflow that's easy for students to grasp. And the Capture application is clean and simple and doesn't get in the way of the spontaneity of the live mixing process."
www.presonus.com
(IT/CD)
Top Related Stories
Click here for the latest broadcast news stories.