Broadcast News
07/05/2013
Blackmagic Design: The Lamborghini of Trade Shows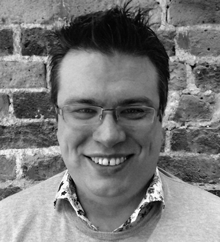 Simon Hall, Senior Trainer at Soho Editors Training, has always looked forward to NAB as a highlight of the industry calendar. But this year, as he explains, he left wondering whether or not the age of breaking broadcast news had run its course...
I'm a car fan and have been since the age of 4. I think it was fond memories of my dad's metallic brown Ford Granada with its velour interior and black vinyl roof which first captured my imagination (a weird car choice I know). I remember seeing the Lamborghini Diablo at a car show and just gawping at how it looked. It was a prototype then but it made it to the production line pretty much as it had looked on that day. I remember that moment, though, as a little bit of the automotive dream in me died.
The PR and marketing men took over, and more and more car shows were full of prototypes made of space age materials with gull wing doors, magnesium wheels and interiors that looked like an Essex nightclub. They were never made, and the ones that were looked nothing like their mad originals. It became clear that car shows were nothing more that a manufacturer saying: "here's what we can make, but because we're Toyota we have to make it look like a horizontal washing machine because a marketing man says that's what our brand is."
As such, I haven't been to a car show for 10 years, but then doing the job I do, I have the ability to go to and follow production trade shows to see what the latest technology is. They're the same as car shows: geeky blokes, inane rambling about performance figures and comments such as "this latest one isn't as good as my spec'd up 96 model".
So I feel right at home, and at production shows it feels like everything hasn't been run past the branding executive for approval. So when NAB rolls around I'm always quite excited, but after this year I hope I've not had my Lamborghini moment. I felt a bit underwhelmed.
Apple stopped doing NAB a few years back, so you don't expect announcements. Avid have updated to Media Composer 7 but so far there seems to be no real leap forward. But considering their share price, this was always a possibility, as they can't pay for a huge development team. The main disappointment though came from Adobe with, well, nothing really.
The hope was a preview of CS7 or at least a little glimpse of Premiere or AfterEffects. There were lots of sound bites and promises but nothing of any substance. This was a huge surprise as Adobe are trying to position themselves to mop up disgruntled Final Cut Pro 7 users refusing to move to X. So surely you'd think they'd be going hell for leather to get the new software up and running and at least have something for NAB. Some of my colleagues who are beta testing at the moment are talking about just how much of a leap forward Premiere is, so there is a silver lining. But to get the market share they have to hit shows like NAB hard. So I'm looking forward to the new Premiere, but say to Adobe: "don't miss the boat with this, you did it once before and Apple beat you to it".
So you'd have to say a big thank you to the likes of Blackmagic Design. Two new cameras and an update to Resolve saved NAB from being a damp squib for the first time ever. Firstly, the cameras; a new version of their cinema camera that can shoot 4K all for around $4000. You cannot argue with that (admittedly if you'd bought the 2K one you might), but the cost is unbelievable. Look at the cost of a new XDCAM camera and there's no comparison. You may be waiting a while for delivery but it will be worth the wait.
The other camera though caused a real wave of excitement. For less than $1000 you can have a camera that shoots RAW or Pro Res at 1080p. That's amazing and will have Sony and Canon looking over their shoulders. The main reason I thought it was brilliant was because I'm buying one even though I'm not a cameraman. Far from it. But the idea of shooting high res files to grade myself genuinely interests me. It's a better alternative to a cheaper DSLR camera so why buy a Canon 550D when I can buy one of these.
Coupled with this is the launch of Resolve 10. It has full editing features in it, including full trimming tools, audio mixing and titles. So you could edit and grade in one app, and the grading function is second to none. If Blackmagic's editing side of things is as good as their grading, then watch out everybody. Shoot, edit and grade to a high-end finish all on Blackmagic products; there's no one, not even Apple, who can boast that. And for Soho Editors being the only Blackmagic Authorised Training Centre, well we're over the moon.
So maybe I was wrong, it wasn't my Lamborghini moment. Blackmagic saved it and I can go to IBC in September with my faith in trade shows intact. Hopefully, by then, MC7 and CS7 will be around and I can sit and talk geeky things with my fellow professionals and keep all thoughts of Lamborghinis strictly to myself. And Ford Granadas, for that matter.
Read the article in the online edition of Regional Film & Video
here
.
(IT/CD)
Top Related Stories
Click here for the latest broadcast news stories.