Broadcast News
30/04/2013
ANTON/BAUER Top London Eye For 'Epic Stunt'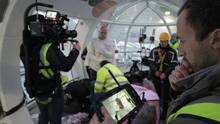 When Jon Richards, director of a new U.K. television programme chronicling the feats of the well-known daredevil and escape artist Jonathan Goodman, was tasked with capturing an escape from the London Eye for the show's season finale, he used the new Gold Spectrum Wireless Kit and AB Direct VU handheld confidence monitor/COFDM diversity receiver from Anton/Bauer.
Goodwin was hung upside down and trapped in a straitjacket 200 feet off the ground from one of the London Eye's capsules, with only minutes to escape from a burning rope attached to the pod.
Richards and his production team used multiple cameras, including three Sony F3 cameras equipped with Sound Devices PIX 240s to maximise the resolution bit rate, Canon 5D Mark IIIs, GoPros and a HELI-cam with a Canon 5D as well.
The Sony F3s were strategically placed on a nearby hotel balcony overlooking the Eye, with one camera placed within Goodwin's pod, as well as one on the ground to capture the onlookers.
"The technical challenge for me was how could I see what is going on when I'm stuck in the capsule with the stunt team—60 meters off the ground with my cameras a great distance away," says Richards.
Anton/Bauer's Gold Spectrum Wireless Kit is comprised of the AB-HDTX transmitter, AB-HDRX dual diversity COFDM receiver and/or AB Direct VU handheld receiver/monitor. As part of the system, the AB-HDTX transmitter sends its signal directly to the AB-HDRX dual-diversity receiver or the Direct VU handheld confidence monitor/receiver.
It has an RF output of 100 mW and is capable of accepting a wide range of HD/SD video formats along with embedded audio from the HD-SDI output on the camera.
The use of MPEG-4 compression allows the signal to travel half a mile in line-of-site applications.
A director can monitor different shots and make adjustments in real time from Anton/Bauer's AB Direct VU—the handheld monitor plus receiver—powered using Anton/Bauer Gold Mounts and batteries.
www.antonbauer.com
(IT/CD)
Top Related Stories
Click here for the latest broadcast news stories.