Broadcast News
21/03/2013
Hybrid To Showcase New Features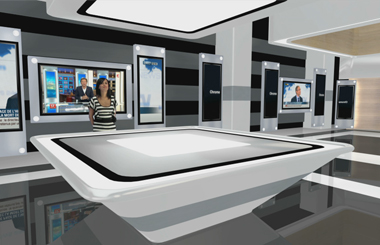 At NAB 2013 Hybrid, a leading provider of real-time graphics and robotic camera systems, will present a dynamic display of its product line working together and with third party products to deliver interactive presentations with unsurpassed visual imagery. Groundbreaking new features to several products will be introduced. Hybrid will exhibit in Booth C9908 during the NAB convention, being held from April 8-11 at the Las Vegas Convention Center.
Among the highlights in the Hybrid stand will be demonstrations of its line of tracked and trackless virtual studio solutions, augmented reality technology, robotic camera systems, social media integration, second screen interaction, and integration between its product line and Snell and Blackmagic Design switchers.
"We're thrilled with the opportunity that NAB presents to our company," said Olivier Cohen, CEO, Hybrid. "This is an exciting time for Hybrid, and we're looking forward to showing off our latest advances on such a high-profile stage as NAB."
Hybrid's tracking virtual set solution,
Krypton 3D
, boasts a complete range of new features to be introduced at NAB 2013. Already a powerful system, Krypton's real-time 3D engine can be coupled with Hybrid's Chrome compact, broadcast robotic jib to make it even more precise. Using a Krypton system, the company will present a photo-realistic virtual set within its NAB booth this year.
Krypton's new features include:
• Shaders such as bump mapping and automatic depth of field
• Multi-layering ability
• New 3D effects module
New for Hybrid's trackless virtual set, Neon, is the ability to shoot in remote locations for the same production. Neon is based upon the same core engine as the higher-end Krypton system, but it allows for virtual camera movements in real-time from fixed cameras on set. It requires only a PC and software and operates with a simple drag-and-drop process. It creates the illusion of sophisticated camera moves within a virtual set without use of a tracking system, chroma keyer or other accessories - this allows Neon to be a fully portable virtual studio system. Neon can import 3D scenes and models from all common modeling software, such as 3D Max, Maya, Softimage.
Neon comes at a price point that makes the system accessible to video producers at many levels, including local TV stations, schools, new media facilities, independent production companies, in-house corporate studios, etc.
Hybrid will also show the use of virtual set technology to replace video walls in a physical set environment, while enhancing program production with spectacular graphics.
New Social Media Interfaces
never.no, a new interface that enables an on-air presenter to see and respond to live feeds from Google+, Twitter and Facebook when using a Hybrid virtual set. Using URL's specific to the program they're watching, viewers can respond in real-time to social media comments and what's happening on screen. 

All Hybrid solutions are now designed with interaction between the anchor and the content in mind. New at NAB is the ability for the television host to interact with content via second screen applications or with interactive devices like Microsoft's Kinect. The graphic controller is now available for download on Android devices.
Broadcast Robotics
Hybrid will showcase its entire line of robotics camera systems within a dedicated area of its NAB booth. Titanium and Silver, Hybrid's two pan/tilt/zoom/focus systems, will be used in the robotics zone as part of a non-virtual production demonstration. And the company's unique robotic jib, Chrome, will be utilized for a virtual set/augmented reality presentation.
Switcher Integration
Also new at NAB this year are native interfaces between Hybrid products and Snell's Kahuna and Blackmagic Design's ATEM switchers that enable users to control camera robotics, virtual cameras, 3D animation, and virtual set switching directly from the switcher.
Hybrid TV
(H)
Top Related Stories
Click here for the latest broadcast news stories.