Broadcast News
05/03/2013
The Duke Of York Meets Apprentices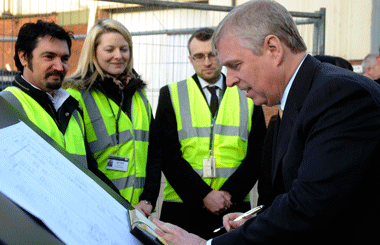 The Duke of York, KG visited Pinewood Studios to meet young apprentices working at the Studios and to launch the Pinewood Studios Management Diploma.
The new diploma has been established by Pinewood to help train its current and potential Studio Managers in the UK and across its international network.
The Diploma will be delivered by Amersham and Wycombe College, with which Pinewood has a long established relationship and which currently administers many of the Pinewood Group's current apprenticeships. The diploma has received partial funding from Creative Skillset - the body which supports skills and training for the creative industries.
The Diploma will equip candidates with everything they need to effectively run a world-class studio facility for the screen based industries. It will teach students about managing facilities, contractors, budgets and assets amongst others. The course has been developed by Pinewood in conjunction with Amersham and Wycombe College and will be rolled out to the wider industry in the future.
A steering group, chaired by Andrew Noakes, EON Productions, Associate Producer Skyfall (James Bond) and including Sarah Buckenham (Head of Production at Princess Productions) has been established to ensure that the course is directly meeting the needs of both film and television productions and to give first hand industry perspective. The course will be lead by Kas Lee.
HRH visited Pinewood Studios as part of his continued effort to promote and recognise businesses that support apprenticeship programmes and deliver excellence in continued in-work education.
During The Duke of York's visit to Pinewood he met with Luke Moorcock & Maimunah Yahkup, digital apprentices working in Pinewood's Digital Content Services department; Sam Healy, Drapes Apprentice; Jamie Garret, Carpentry Apprentice; and Jonathan Ash, Wood Mill Machinist, and also seven students who have already enrolled on the course.
Andrew M. Smith, Director of Strategy and Communications for the Pinewood Studios Group said: "We are so pleased that The Duke of York was able to launch the new Pinewood Studios Management Diploma. This is a really important initiative for the Company to ensure that we are training our staff to successfully and efficiently operate a world-class facility for our clients – no matter what part of the creative industries they are from. It is especially important, as our new studios around the world come online, to make sure that productions experience the same high level of quality they have come to expect from Pinewood in the UK.
"I am also thrilled that Andrew Noakes and Sarah Buckenham have agreed to sit on our steering committee to lend their experience and to make sure that we are responding directly to the specific needs and requirements of major productions."
www.pinewoodgroup.com
Top Related Stories
Click here for the latest broadcast news stories.