Broadcast News
04/02/2013
ISE Celebrates Record Attendance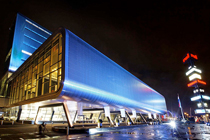 ISE 2013 has closed its doors after three days that saw record numbers of exhibitors and visitors drawn to the best-attended AV industry tradeshow ever held, anywhere in the world.
The show's final total of 44,151 registered attendees represents an 8% increase on 2012's world record of 40,869. Just under 900 exhibitors – also a record for ISE – occupied all 12 halls of the Amsterdam RAI from 29–31 January, with most reporting a brisk three days of business involving a healthy mix of new and established contacts.
On Monday 28 January, ISE celebrated its 10th edition with a widely lauded opening Keynote Address by renowned cyber-illusionist Marco Tempest, followed by a 10th Birthday Party at which some of ISE's Founding Exhibitors – those companies that have supported all 10 shows since Integrated Systems Europe began in Geneva in 2004 – were honoured in a special presentation. The celebrations were preceded by three pre-show Conferences and over 1,200 people attended the Monday events in total.
"Few who attended our inaugural event in 2004 could have imagined just how big, how interconnected and how inclusive ISE would become within less than a decade," comments Mike Blackman, Managing Director, Integrated Systems Events.
"ISE 2013 demonstrated more clearly than ever that the electronic systems integration industry is capable of defying economic headwinds and encouraging its stakeholder companies toward continued growth."
The positive trend was continued during the on-site exhibitor rebooking process for ISE 2014, where over 500 companies reserved space totalling more than 30,000 square metres – some 93% of the show's 2013 footprint and over 75% of the expanded area that ISE will occupy in Amsterdam next year.
Of particular note was the number of companies committing themselves to larger stands 12 months from now, and that many of these were smaller to medium-sized exhibitors who are relatively new to ISE.
"What we clearly see emerging now at ISE is a fresh wave of exhibitors that are building their businesses on the back of their ability to inspire new connections, greater collaboration and, perhaps above all, wonderful content," Blackman concludes.
"All the signs point to a wonderful show in 2014, and a rosy future for an industry that continues to grow into business sectors that would have seemed out-of-bounds to us only a few short years ago."
www.iseurope.org
Top Related Stories
Click here for the latest broadcast news stories.