Broadcast News
04/01/2013
Holdan Sends Hot Technology To The Polar Region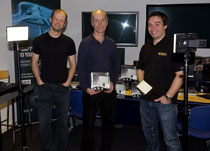 On 6th December, the vessel SA Agulhas set sail from London at the start of the world's first attempt to cross the Antarctic in winter.
A 6-man team lead by Sir Ranulph Fiennes will undertake the 2000 mile trek across the continent, facing temperatures as low as -90c and near permanent darkness.
Keeping a documentary record of the crossing and broadcasting from this ultimate remote location is challenging to say the least: keeping packs light was a primary consideration but the crew also had to be sure that the kit could operate to true broadcast standard.
To help the team film in these extreme low-light conditions the team has opted for 6 Datavision LEDGO-B150 mini LED video lights which can be mounted on cameras and portable stands. Tristam Kaye (Expedition Operations Manager) said: "These lights are a perfect addition to our Panasonic HPX250 handheld camcorders. They are incredibly bright for their size and weight and use the same batteries as the P2 cameras. They can even be slotted together to create a brighter source."
The video footage taken on the expedition will be edited on site in Grass Valley EDIUS 6.5 by the team. It will then be uploaded by satellite connection back to the UK to be shown on BBC News. Kaye continues: "EDIUS was the perfect choice for our ice team, as it can handle native P2 files from the broadcast HPX250 cameras as well as footage from Panasonic Lumix cameras and the GoPro's that the expedition is taking. It's also fast and intuitive to use, which is of the utmost importance given the conditions we're working in."
A winter traverse of the Antarctic is widely regarded as the last true remaining polar challenge and the expedition's success will reassert Britain and Europe's status as home to the world's greatest explorers. Richard Payne of Holdan, Panasonic, Grass Valley and Datavision's distributor concluded: "Crossing the continent and surviving the most hostile environment on the planet will be a remarkable test of humanity, not just physically and mentally but also technologically. We are confident that today's broadcast equipment is up to the challenge."
www.holdan.co.uk
Top Related Stories
Click here for the latest broadcast news stories.